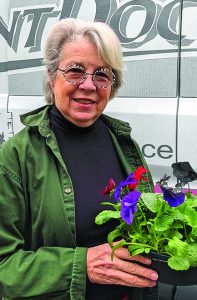 By Christine Graf
When the COVID-19 pandemic shut down many offices throughout the country, Glens Falls-based Plant Doctor lost half of its commercial clients. The interior and exterior plant design service company has customers throughout the greater Capital Region and Lake George.
But many of Plant Doctor's previous corporate clients are re-enlisting her services as they transition their staff back into their offices.
"Most all of my business is commercial—a lot of law offices," said owner Lanette Akerson. "The lawyers are, by and large, working from home and I lost half of them. Half of them still retain our services even though the offices are half-manned or not manned at all."
It was in the midst of this significant downturn in business that The Desmond Hotel in Albany reached out to Akerson and asked her to design the landscaping for the hotel's two atriums. The $75,000 project was the largest project in her more than 20 years at Plant Doctor.
"It was a huge project. We worked on it together and came out with an amazing result," she said.
As a result of that project, Akerson's gross revenue for 2020 equaled that of 2019. Her net revenue was also positively impacted after she made the decision to significantly reduce her expenses.
"Before COVID, I had four commercial vehicles and a car. I'm down to one commercial vehicle and a car. I also had five part-time staffers, and after COVID, I now have two," she said.