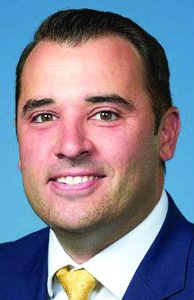 By Jill Nagy
Area banks have been upgrading their online and digital services but the big push in 2020 appears to be administering Payroll Protection Plan (PPP) small business loans.
"It was an all-hands-on-deck situation; we recruited everyone to help out," recalled Charles Wait Jr., president and CEO of Adirondack Trust Co. The bank processed $100 million worth of loans in the first round and he expects another $50 million during the second round. "It's been an interesting 12 months," he reflected.
Similarly, Marc Monahan, Glens Falls and Saratoga regional executive for NBT Bank, welcomed the PPP program as a way to stay in connection with existing customers as well as a way to bring in new ones.
"They need an account with us but they can open an account and apply for a loan on the same day," he said. NBT has a dedicated website for PPP loans and, according to Monahan, they processed more than 3,000 applications last spring. 
"The past year has altered how we communicate with our customers," Monahan said.