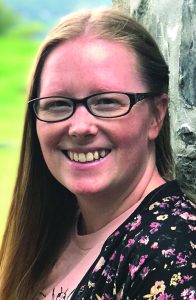 By Christine Graf
After MT Returnables owner Bob Ball died in a motorcycle accident in August 2020, his oldest daughter, Jade Eddy, spent the next eight months working to reopen the business.
Because Ball had no will and operated his business as a sole proprietorship, the company's bottle and can redemption centers in Corinth and Queensbury were forced to close.
Ball established MT Returnables in Corinth in 2005 after a 20-year career with International Paper. When the paper company closed, he began collecting bottles and cans to earn money. At the time, bottle redemption centers were a new concept.
"He had a difficult time finding a job," said Eddy. "He started driving around town and collecting bottles and cans from people and sorting them in the garage. We started calling him a professional hobo. My senior year in high school, he got a building in Corinth, and I thought he had lost his mind."
Eddy, a Lake Luzerne native, started working part-time for her father when he opened the business. After graduating from high school, she continued to work part-time while enrolled in the business program at Adirondack Community College. At the time, she dreamed of opening her own clothing store. After discovering that she didn't enjoy working in retail, she decided to work full-time at MT Returnables. In 2012, after Ball became overwhelmed by the administrative side of operations, he put her in charge of the business.