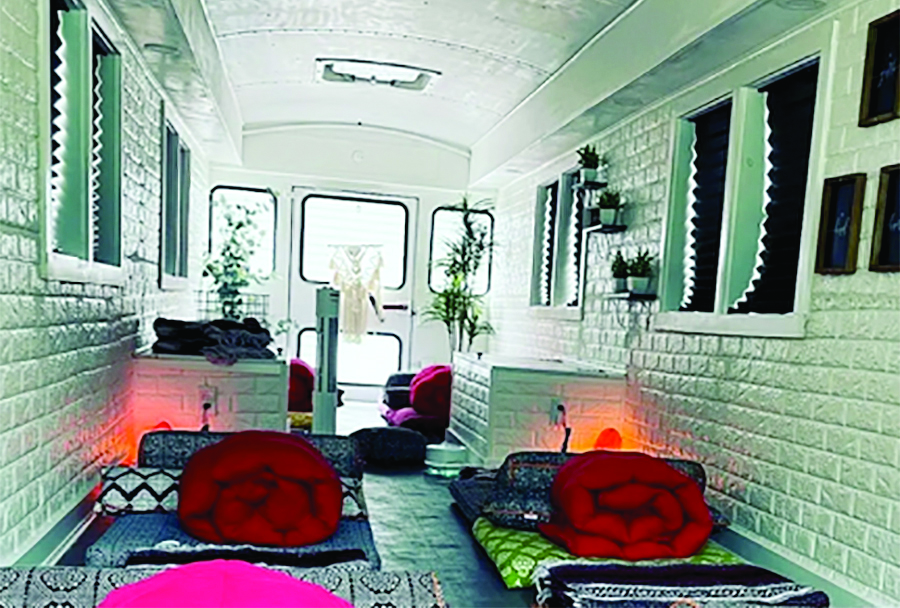 By Christine Graf
Since launching The Mobile Meditation Studio in September 2022, owner Kayla Craft has been travelling to schools and businesses throughout the Capital Region in a school bus that she transformed into a meditation studio.  She recently partnered with Crossroads Way, Inc., a non-profit with a mission of "Helping Kids Along the Way." Tax-deductible donations made through the non-profit will be used offset the cost of bringing the bus to high schools in underserved communities.
According to Craft, the partnership with Crossroads Way materialized after Katie MacDougall established the Glens Falls non-profit earlier this year.
"We teamed up with them to be able to identify school districts that may not have the funds to have the bus come to them. We want to make the bus accessible to schools that don't have the resources. This is a way for local businesses and the community to help more kids have access to these services."
To date, The Mobile Meditation Studio has visited high schools in numerous school districts including Gloversville, Hudson Falls, and South Glens Falls. It has also been utilized by BOCES and SUNY Adirondack.
The bus provides what Craft describes as a respite for often over-stressed teens. During a bus meditation session, high school students are taught breathing exercises and mindfulness strategies. When practiced, these techniques can be effective in helping individuals manage stress.
When the bus travels to a school, students can sign up for 15 or 30 minute meditation sessions. The length of the sessions are determined by the school, and with shorter sessions, more students can be accommodated. To minimize the time that students are out of class, most schools opt for 15 minute sessions. The bus can be booked for either a half or full day.
"Even with 15 minutes sessions, it is still impactful. None of the kids want to get off the bus. They say that they feel calm, peaceful, and not as stressed out. When I renovated the bus, I thought about each detail. I asked myself how I could create a calming space that was accessible to everybody," she said. "And, it's not just for the kids. It's also for faculty and staff as well."
Although donations through Crossroads Way are earmarked towards bringing the bus to underserved school districts, opportunities are available for private pay clients to bring the bus to their place of business. On average, Craft brings the bus out about two times a week.
"We really hone in on school systems, health care workers, and first responders," said Craft. "We also go to business and corporations. The focus is identifying anyone who has a lot of stress and anxiety and is looking for tools to help with emotional regulation. People can use the tools that they learn on the bus and utilize them in everyday life."
The bus accommodates six people at a time, and during each session, Craft teaches Kambal meditation using weighted blankets.  Weighted blankets have been shown to increase serotonin and dopamine which can help to calm the nervous system and improve mood.
 "This form of meditation is done laying down, and you find a very comfortable position. You are guided through a breath work practice and a guided meditation body scan," she said.
According to Craft, she dreams of the day that she can have a fleet of busses operating throughout the United States.
"Our hope is that we can make an impact by having busses all over the country. We want to make this accessible for every human even the ones who are reluctant to try. The hardest part can be to get people on the bus because they aren't really sure what is going to happen on the bus as far as spending time with themselves. And, then, the then hardest thing is to get them off the bus because they don't want to leave."
In addition to operating The Meditation Bus, Craft owns and operates the yoga studio Grounded on Glen Street. She is also preparing to launch and subscription-based online meditation website. Through the web site, she will offer meditations that range from 5 to 30 minutes in length.
For more information, visit themobilemeditationstudio.com and groundedonglenst.com