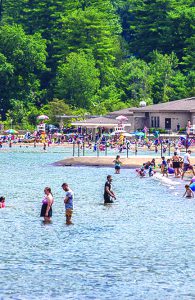 The FUND for Lake George has presented nearly $500,000 in grants to seven organizations and municipalities to assist in their work to keep the lake clear and clean.
The FUND has now invested more than $7 million in Lake-protection initiatives since 2013.
"The FUND for Lake George not only advocates for the protection of this priceless natural resource, we act, with direct investments to secure the Lake's signature water quality," said Executive Director Eric Siy. "We are grateful to our many donors who make these grants possible by trusting us to invest in initiatives that make a sustaining difference for the Lake and our Lake-based economy."
Officials said this year's grants included:
• Science of Solutions Grant: $285,000 to The Jefferson Project—a landmark collaboration between IBM, Rensselaer Polytechnic Institute and The FUND — that has made Lake George "the world's smartest lake" through the deployment of a highly advanced environmental monitoring system in the water and throughout the watershed.
• Invasive Species Grant: $90,000 to the Lake George Park Commission for aquatic invasive species prevention and milfoil removal initiatives.