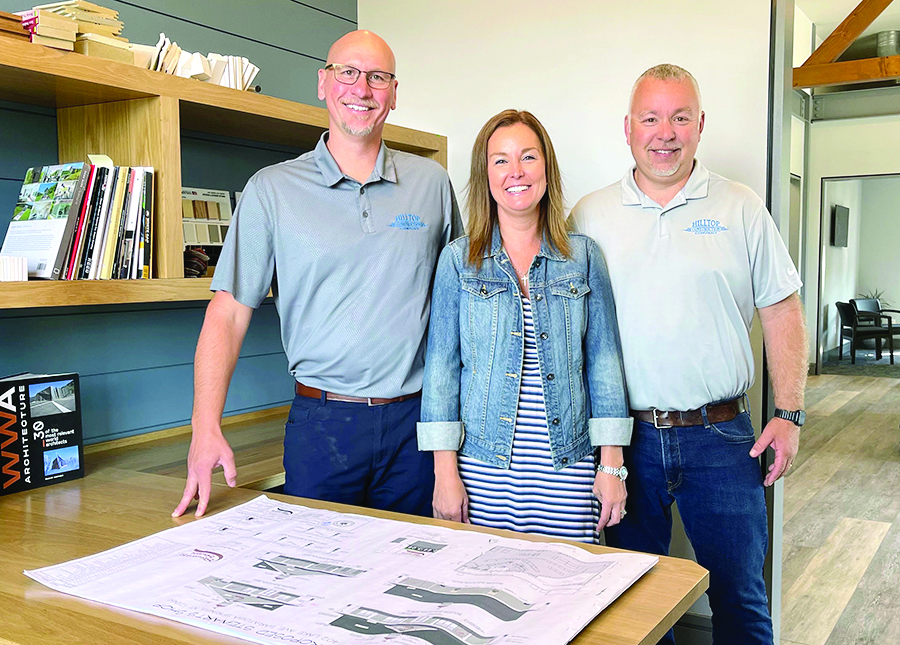 by Christine Graf
Hilltop Construction is putting the finishing touches on a new office/warehouse headquarters at 21 Casey Road in Queensbury. 
The 10,000-square-foot facility is being built on two lots located in the Airport Industrial Park.
"Our company is growing, and we needed space for expansion," said co-owner Dan Washburn. 
Warren-Washington Industrial Development Agency sold the two vacant industrial park lots to Hilltop Construction for $40,500.
Washburn's in-laws, Tom and Cindy Albrecht founded Hilltop Construction in 1975. After the couple retired two years ago, Washburn, along with his wife April Washburn and brother-in-law Tom Albrecht Jr., assumed control of the business. 
Hilltop Construction builds custom homes that range in price from $400,000 to $5 million. The homes are located throughout the Capital Region and the Adirondacks. 
"We've done a lot of work in Schroon Lake, Brant Lake and Lake George," said Washburn. 
On the commercial side, Hilltop has worked on projects as far west as Syracuse. Stewart's Shops has been a consistent client over the years.
According to Washburn, the company has numerous commercial projects in the works. 
"We've got a new gas station in Malta (EZ petroleum on Route 9). We're doing a Stewart's Shop on Weibel Avenue in Saratoga that we will start on at the end of August. We are also in the middle of a huge commercial renovation at Garvey Hyundai in Queensbury, and we're doing a small project in Colonie–a $300,000 renovation of an office," he said.
The company recently entered into the pre-engineered steel building market. They work with Kirby Building Systems, an industry leader in the manufacture of custom-engineered, high-quality, and cost-effective metal building systems. 
"This is a new market for us," said Washburn. "We did a big slaughterhouse for Champlain Beef and a few car dealerships."
The majority of Hilltop's 36 employees work in the field on construction sites. After the new office is complete, Washburn expects to add to the company's small administrative staff. 
"The custom home market is flourishing, and we are continuing to grow and expand into different avenues," he said.