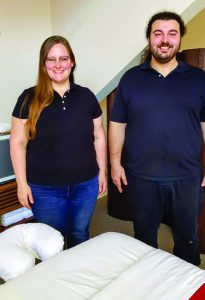 By Susan Elise Campbell
With her new practice, Outta Sight Massotherapy LLC founder Brianna Gregory, LMT, is educating the community that massage is not just for relaxation or sports injuries. 
"Massotherapy is a new term that I'm putting in the face of the public," said Gregory. "I like how people ask about the name and we start the conversation."
According to Gregory, massage therapists can have very different goals and a range of skill sets.
"Some like a small space for relaxation and to be very Zen," she said. "Others do sports massage at sporting events, which is very high energy."
Medical massage can focus on recovery, TMJ, back aches, and more, she said. All massage is about muscular therapy and bodywork, and Gregory said she is equally comfortable with Western and Eastern influences in her treatments.
Gregory said she always wanted to work for herself and took business courses toward her associates degree. She is the owner and business manager of Outta Sight Massotherapy. John Krieg, LMT, is an independent practitioner on staff. 
But her first career was as a graphic designer. That path ended in 2020 with a diagnosis of macular degeneration. Working in front of a computer every day was no longer going to be feasible, she said.