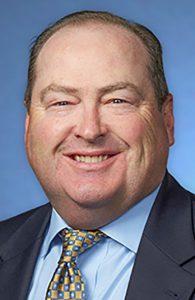 By Paul Post 
The U.S. should have no trouble weathering a mild recession if one occurs, but inflation, a national labor shortage, and skyrocketing debt coupled with high interest rates are major causes for concern.
 That's what a leading financial analyst told more than 200 people gathered for a recent Adirondack Regional Chamber of Commerce event at the Queensbury Hotel.
 Ken Entenmann is senior vice president, chief investment officer and chief economist for Norwich, N.Y.-based NBT Wealth Management. He holds a bachelor's degree in applied economics and business management from Cornell University, an M.B.A. from the University of Rochester's William E. Simon Graduate School of Business Administration, and oversees more than $9 billion in assets under management and administration in trust, custody, retirement, institutional and individual accounts.
 His presentation, supported by detailed graphics, was entitled, "Should I Stay or Should I Go?: Waiting for the Imminent Recession That Has Yet to Happen."
 "Whether we have a recession or not, I don't think is the relevant question," Entenmann said. "Things are slowing, but because consumer and corporate balance sheets are relatively strong, I think we'll weather a recession. I'm concerned because I think it's fair to say Washington right now is dysfunctional, and the likelihood that they're going to tackle some of the bigger problems like Medicaid and Social Security is small. Therefore, I think those problems are going to linger."
 Since 2007, national debt has more than tripled from $9 trillion to $33 trillion.
 "Then the chickens came home to roost," Entenman said.
 While debt was growing exponentially interest rates remained low, but have since gone up 550 basis points, meaning this year's interest payments on debt will total about $800 billion and likely reach nearly $1 trillion in the next few years, or 8 percent of the federal budget.