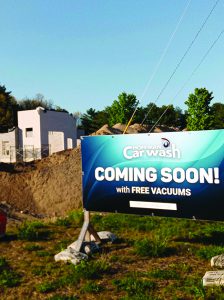 By R.J. DeLuke
Construction season this year is seeing a variety of companies in the area involved in numerous projects, sizeable and otherwise, as business moves forward in spite of concerns about the economy.
Rob Holbrook, president of V&H Construction in Fort Edward, said he is optimistic about the construction industry in the region.
"We've been straight out since COVID," he said, though he noted there could be a "cooling off" period on the horizon.
Like others, he said finding qualified workers is still an issue.
"I could use more people. I can't hire enough qualified people right now," said Holbrook. 
Dan Washburn, a partner with Hilltop Construction in Hudson Falls, hiring is a bonifide issue. "Qualified workers have decreased and are harder to find," he said, while noting it is not a new problem, rather one that has persisted for some years.
Nonetheless, "we've got a really good crew," said Washburn.
Of the general state of the industry, he said "for us, it's very good. We have alot of irons in the fire … It's a very good outlook for this year and through next fall and into winter." Projects are already being scheduled for 2024, he said.