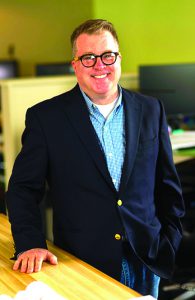 By Jennifer Farnsworth
This is a corrected version from 5/15/2019
Michael Murray can be found at AJA Architecture in Glens Falls. He is responsible for the business development at the architectural firm.
Murray has an architecture degree from New York Institute of Technology and has worked on the technology-side of the business for several architecture firms for most of his career. At some point, he said he realized he was more of a "computer geek" than an architectural designer. He started as a CAD (computer-aided design) manager for an architecture firm in Colorado, and that lead him to the field of technology consulting.
"I led a team of talented technical people and helped those architecture firms become more effective with their use of technology, allowing them to be much more efficient, and more productive," he said. "It was very rewarding work, but I was also working way too much. Lots of long hours eventually had me burned out on the technology."
Murray eventually found himself working as marketing consultant where he assisted architecture firms with their marketing needs.
"The pace of consulting worked much better for me, still very rewarding work, but not nearly as many long hour days," said Murray.