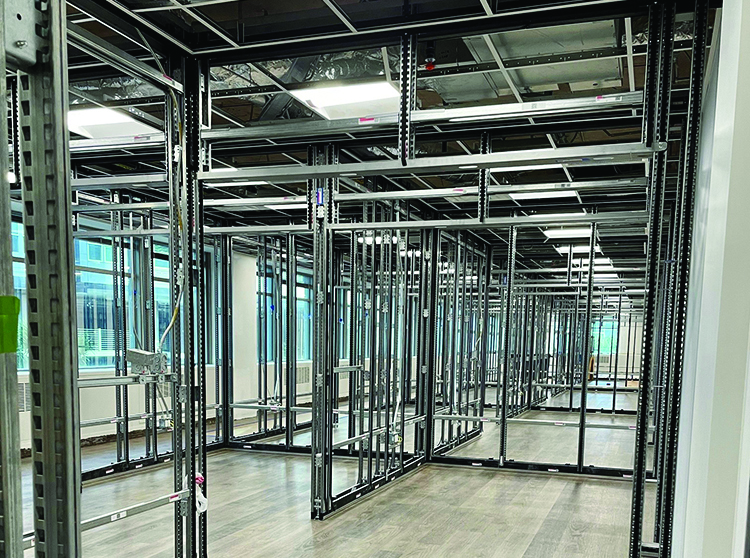 By Christine Graf
It was while working to construct the interior of a third Saratoga CoWorks Space at 92 Congress St. in Saratoga Springs that owners Dorothy Rogers-Bullis and Dan Bullis first discovered Falkbuilt, an interior digital component construction company. 
They were so impressed with the company that they now operate Falkbuilt's Northern New York branch as part of their own commercial design and furniture company, drb Business Interiors.
"Falkbuilt was the solution that we were looking for," said Rogers-Bullis. "We wanted better acoustics, better design, and faster lead times."
Had they not used Falkbuilt for the interior buildout at 92 Congress St., she estimated that the work would have taken four times as long.
Founded in 2019, Calgary-based Falkbuilt has 450 employees and more than 90 branches in North America, the Middle East and India. The interior construction manufacturing company uses next-generation technology to manufacture components efficiently and precisely in their factory. Falkbuilt systems are being utilized in hospitals, offices, and even a research station in Antarctica.
Described as "conventional construction on steroids," Falkbuilt's digital component construction combines proven interior construction methods with technology. Its ECHO software, a cloud-computing platform, connects with the technological platforms that are commonly used in conventional construction. The software also utilizes industry-standard design and engineering tools. 
"Falkbuilt combines technology and construction to make a quicker, more streamlined, efficient, sustainable end result," said Rogers-Bullis. "We're doing prefabrication on the interior, and nobody else is doing that. It's engineered, off-site construction." 
According to Rogers-Bullis, using Falkbuilt drastically speeds up the interior construction process.
"As opposed to, say, three months for an inside buildout, we can do it within weeks," she said.
Falkbuilt systems typically arrive just five weeks after being ordered, and the components are precut and manufactured offsite for easy installation.
Rogers-Bullis and her team work closely with each client during the design process which utilizes 3D modeling software. Falkbuilt is 100 percent customizable and seemingly endless  design options. Customers are also able to make design modifications right up until the time of production. 
"Our ECHO software is 100 percent accurate and allows us to change things in real time," she said. "I explain to people that Falkbuilt is a platform, not necessarily a product, and we have solutions for your project."
One of the benefits of using Falkbuilt components is that they are designed to be sound absorbing. They have superior acoustics that allows for greater privacy within an office. The components are also designed for disassembly, and wall systems can be easily reconfigured. 
All components are packed flat for shipping, and installation generates almost zero waste. As a result, customers are able to save money on freight and construction material disposal costs.
As part of Falkbuilt's focus on sustainability, they use high-density fiberboard in place of drywall for their cladding, which is the coating on a structure or material. Manufactured from recycled sawdust and wood shavings, the cladding is biodegradable, compostable, and substantially sturdier than drywall. Cladding is available in a variety of materials including wood grain and faux marble.
Since opening the Falkbuilt branch, drb Business Interiors has been working with customers from around the country. 
"Everyone who has a branch can sell to customers anywhere in the world, and right now we're working on a huge 80,000-square-feet project in the midwest," said Rogers-Bullis. "I'm also working with contractors and architects in the Albany area that love it. I'm also working on projects in Pennsylvania, Connecticut, New York, and New Jersey."
For more information, visit falkbuilt.com.