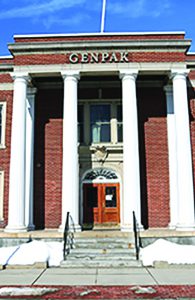 By Rachel Phillips
The Fitzgerald Morris Baker Law Firm is preparing to move their Glens Falls offices.
The firm currently rents space at 16 Pearl St., but is bound for downtown space at 68 Warren St.
Until recently, 68 Warren St. served as the headquarters for Genpak, a food packaging manufacturer. When Genpak announced its decision to move its headquarters to Charlotte, N.C., managing partner of the FitzGerald Morris Baker Law Firm, John Aspland Jr., saw it as an opportunity for his firm.  They bought the building.
With a history dating back over 90 years, FitzGerald Morris Baker has been serving the community both in and around Upstate New York, and has seen great growth and success, according to the firm. Aspland said the acquisition of a new office will help facilitate positive growth. They bought the building.
"The idea is, when you make a step in one direction, and you have a plan in mind for five or 10 years down the road, you can see where you're going. If you can find a space that allows you to develop a floor-space plan for growth, you can take steps to get where you want to be," said Aspland.