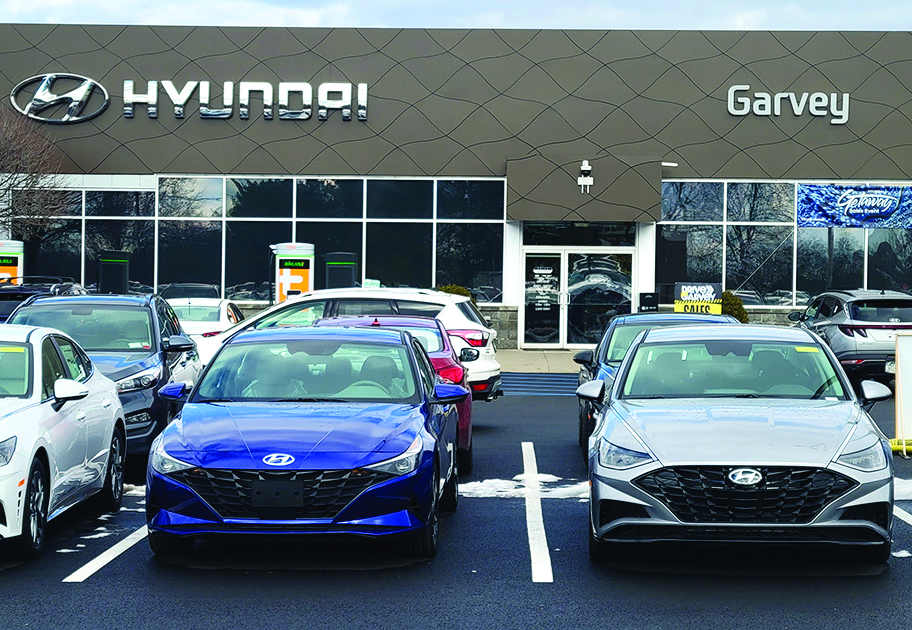 By Paul Post
This winter's mild weather has been a hindrance for those who enjoy outdoor activities such as ice fishing, snowmobiling and cross-country skiing. But it's been a big help to contractors such as Hilltop Construction, which is handling a $4 million expansion and makeover of Drive Garvey's Hyundai dealership on Dix Avenue in Queensbury.
The business, which includes selling Hyundai's high-end Genesis vehicles, is nearly doubling in size. Also, the current facilities—from service bays to bathroom tiles—are getting completely redone.
"We're even replacing furniture, lighting fixtures and switches, and everything is going to be as environmentally kind as possible," said Mark Garvey, who owns the business with his daughters, Shannon Bruhns and Kyle Garvey. "We really had no choice, but to do it. Hyundai has grown by leaps and bounds the past few years. Our sales are up about 18 percent from 2021. Our best sellers are SUVs."
"We're revamping 98 percent of the store inside and out," he said. "Everything is going to be brand new. We're adding a second floor to the existing building that will have five huge offices for sales, management and our e-commerce business."
The Parts Department is getting a second floor, too.
In December, industry sources reported that South Korea-based Hyundai surpassed General Motors as the world's third-largest automaker by volume (3.3 million), surpassed only by Toyota (5.1 million) and Volkswagen (4 million).
Hyundai's primary market demographic is 45-to-65-year-olds, Garvey said. "We're doing it for our customers and employees, and each manufacturer has certain requirements they would like you to do. We need this because business has expanded dramatically."
He and his daughters also own a Nissan dealership in Rutland, Vt.
Plans call for completing the Queensbury project by mid-summer. The dealership currently employs 65 people and about one-third are women, a reflection of the owners' commitment to staffing diversity.
Garvey said the expansion will create eight to 10 new jobs, most likely three to four for service and at least one each for office duties, sales, parts and auto detailing.
New features are highlighted by a drive-through service facility.
"So when you pull up a door will automatically open and you can pull right into the service bay and be met by an advisor to take care of your service needs," Garvey said. "When you pull in your alignment and tires will be checked and we'll take complete photos of your car, every car that comes in."
The dealership will also have two quick-lube oil change bays, six new bays for detailing new and used vehicles, and a large storage facility for vehicles.
In addition, the service shop will have bays dedicated specifically for electric and hybrid vehicles. Garvey said sales of these cars has increased, but is still a small part (4 percent) of the dealership's overall business.
"We expect it to grow," he said. "We have eight Level 3 chargers and three Level 2 chargers at the store."
Every vehicle, sold or serviced, that leaves the property will be sparkling clean because a fully automatic car wash will be located at the end of the drive-through, he said.
"Lastly, we are going to have a special, canopied delivery area for when it's time to pick up your vehicle," Garvey said.
He attributed recent increased sales to Hyundai's reputation as a world-class vehicle, plus his own firm's commitment to customer service.
"Also, during the pandemic when some dealers sold cars over sticker price, we never did," Garvey said. "And increased pre-pandemic sales put is in a great position, to make sure we had enough product when everything was really tight. Most dealers pulled back during the pandemic. We didn't. We tried to expand our business during that time and it was successful."