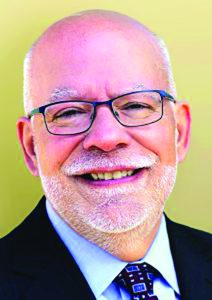 By Susan Elise Campbell
Over his 33-year career at Glens Falls Hospital, Paul Scimeca, president and CEO since January 2022, has seen dramatic changes, both at the hospital and in the community.
These changes are shifting more of the hospital's attention to the needs of seniors and to behavioral transformations among the population in general, according to Scimeca.
"The community we are privileged to care for is aging," he said. "As people grow older and live longer, we need to focus on chronic disease in a way that continues to evolve with the population and mirrors the needs of the community."
Within the past three years Glens Falls Hospital developed a state-designated Center of Excellence for Alzheimers Disease and received certification for its Stroke Center, he said. The demand for these health services follows the population curve.
"The C.R. Wood Cancer Center is one of the first projects I worked on when I came to the Hospital more than 30 years ago," he said. "The center continues to grow as it becomes more successful in identifying, treating and helping individuals of all ages survive cancer."
Chronic decease and mental health services are of equal priority to the hospital and are equally challenging, according to Scimeca.
"Emergency care has changed significantly over the years," said Scimeca. "Some conditions have to be treated immediately, so care starts right in the emergency department."
One of the current priorities, and a personal priority for Scimeca as well, is to renovate and expand the emergency department, since "it was not built for the kind of care that must be delivered today," he said.
"The facility is currently constrained functionally by the design of the department," Scimeca said. "The hospital is at the beginning stages of planning for both a slight expansion and a full renovation."