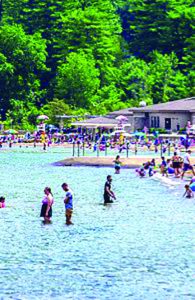 New York state will provide an additional $9.4 million in grants to the Village of Lake George to repair and upgrade its wastewater collection infrastructure to help preserve the water quality and natural beauty of Lake George.
The $9.4 million will be provided by the state in addition to a $3 million Water Infrastructure Improvement Act grant and a DEC-funded $2.5 million Water Quality Improvement Project grant, filling a budget gap in the project and bringing total state investment to $14.9 million.
The remaining cost of the project will be covered by a zero-interest loan from the Environmental Facilities Co., officials said. The investment will result in a total savings to village taxpayers of nearly $25 million.
Gov. Andrew Cuomo said the state "is leading the way in protecting water quality, which is why the state is investing a historic $3 billion dollars to help municipalities address these challenges head-on."
EDC Warren County President/CEO Ed Bartholomew said, "Lake George is a crown jewel of New York's many beautiful lakes and waterways.