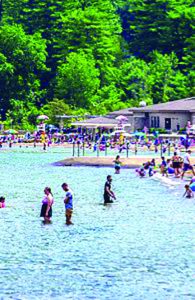 New York state will provide an additional $9.4 million in grants to the Village of Lake George to repair and upgrade its wastewater collection infrastructure to help preserve the water quality and natural beauty of Lake George.
The $9.4 million will be provided by the state in addition to a $3 million Water Infrastructure Improvement Act grant and a DEC-funded $2.5 million Water Quality Improvement Project grant, filling a budget gap in the project and bringing total state investment to $14.9 million.
The remaining cost of the project will be covered by a zero-interest loan from the Environmental Facilities Co., officials said. The investment will result in a total savings to village taxpayers of nearly $25 million.
Gov. Andrew Cuomo said the state "is leading the way in protecting water quality, which is why the state is investing a historic $3 billion dollars to help municipalities address these challenges head-on."
EDC Warren County President/CEO Ed Bartholomew said, "Lake George is a crown jewel of New York's many beautiful lakes and waterways. This critical water infrastructure project will both ensure the continued health of the lake's pristine waters and further economic growth throughout the region."
The Village of Lake George is expected to complete construction of the plant upgrades in August 2021. State officials said the upgraded wastewater treatment plant will enhance Lake George's water quality and continue the Village's efforts to reduce nutrient pollution that can trigger harmful algae growth in the lake's famously clear waters. The project will have an estimated cost of $24 million.
Bartholomew said EDC expressed gratitude to the Lake George environmental organizations including Eric Siy and The Fund for Lake George, Lake George Park Commission and the Lake George Waterkeeper Chris Navitsky, for their leadership and hard work in drawing attention through education and generating private donations to the cause.
"EDC is proud to have participated as one voice with these important and forward-looking groups for the betterment of Lake George, Warren County and the Adirondacks," he said.