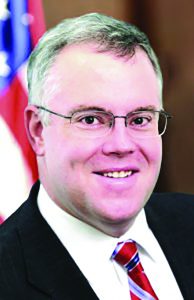 By Dan Stec
As a new legislative session kicks off, I am eager to get back to work on behalf of the people of the North County. With the state facing a $6.1 billion dollar deficit, this will be a very challenging year in Albany.
My top priority as we return to Albany is to address the bail/discovery reforms that were passed in last year's budget. These reforms pose a huge public safety issue to our communities. I have heard from many law enforcement officials and district attorneys across the state that adamantly oppose these changes. I have called on the governor to re-examine how these changes are going to affect law-abiding citizens and to address the many loopholes that are allowing dangerous criminals to walk free with only the hope that they return for their court appearances.
Among my other priorities, is the need for broadband and cellular service throughout the Adirondacks and North Country communities. Although we have made great strides, there still are too many areas that remain unserved. Not only is this a public safety issue, but it is also necessary for the continuation of economic growth and the success of our students.
Infrastructure needs continue to increase as many of our aging wastewater systems are failing and are mandated to be replaced by the state. Many small municipalities simply do not have the funds to repair or replace these aging systems. In addition to water projects, many roadways and bridges are also in desperate need of repair. We need to work together to find solutions that will address these needs.
Another issue facing the North Country is the shortage of home health care workers and the increase of residents that are unable to get the care they need because of staffing shortages. The aging population in the Adirondacks is growing, and the need for home services is increasing. With the ruralness of the North Country, along with limited access to resources, addressing these needs is challenging. Unfortunately, many elderly residents will be forced into nursing homes or hospitals if these staffing needs are not met.
Educating our children is one of the most important things we as parents and elected officials can provide. I will continue to focus on increasing aid for our schools to ensure that all students receive a quality education.
Many communities continue to struggle with providing EMS Services. Although these services are essential, they have become a huge financial burden for many of our municipalities. I will continue to look at ways to address the financing and operation of EMS services.
With people fleeing NYS in record numbers, we must look at ways to increase economic development opportunities and to keep our young people here and employed. We need to reduce unfunded mandates and wasteful spending and to address the overregulated business climate.  We must also look at lowering property taxes that will allow young families the opportunity to buy homes and grow our communities.
As always, I am enthusiastic about getting back to work, and I look forward to tackling these very challenging but important issues.