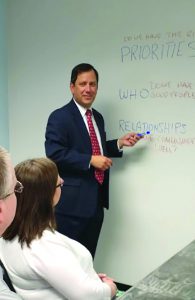 By Jennifer Farnsworth
Despite living in an age with so many types of communication, more and more businesses are looking to professionals to help them zero in on making communication more effective in the workplace.
Many business advisors say if communications are made a top priority, success will be that much more obtainable.
Leslie Kendall of Kendall & Associates Organization Development in Queensbury, said with communication comes the importance of team building. She said the process of team building  is not difficult, it just takes commitment. 
Michael Cruz of Lighthouse Advisors LLC in Queensbury said the best advice he gives to companies looking to improve communication is to simply be honest. He said many organizations make the mistake of talking around issues. He said they have to be able to communicate by talking directly to people instead of talking around them.
"Figure out your goals and what each person's contribution is. You are all in this together," he said.
Kendall said she helps organizations develop a path to success by developing a list of what their priorities are. This is done through using proven problem-solving methods that identify and prioritize potential obstacles. Her company provides workshops in grant writing, proposal development, team building, and working through changes in management.