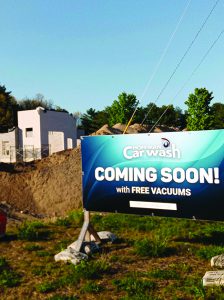 By R.J. DeLuke
Construction season this year is seeing a variety of companies in the area involved in numerous projects, sizeable and otherwise, as business moves forward in spite of concerns about the economy.
Rob Holbrook, president of V&H Construction in Fort Edward, said he is optimistic about the construction industry in the region.
"We've been straight out since COVID," he said, though he noted there could be a "cooling off" period on the horizon.
Like others, he said finding qualified workers is still an issue.
"I could use more people. I can't hire enough qualified people right now," said Holbrook. 
Dan Washburn, a partner with Hilltop Construction in Hudson Falls, hiring is a bonifide issue. "Qualified workers have decreased and are harder to find," he said, while noting it is not a new problem, rather one that has persisted for some years.
Nonetheless, "we've got a really good crew," said Washburn.
Of the general state of the industry, he said "for us, it's very good. We have alot of irons in the fire … It's a very good outlook for this year and through next fall and into winter." Projects are already being scheduled for 2024, he said. 
Jim Dawsey, president of MLB Construction Services LLC, said work is still robust in the Capital District in general and northward to the Plattsburgh area. 
"We anticipate a very busy summer," he said.
Mike Munter of Munter Enterprises in Middle Grove said 2023 "had a little bit of a soft start" in the Saratoga area, but "it seems like customers are seeing the growth and needing to expand."
"There are some supply issues" he said, and the labor pool is still a problem, as companies are trying to fill staffs to meet work loads. But Munter is encouraged by the workforce development initiatives in the area, by groups like BOCES, that are aimed at getting people interested again in the building trades careers.
MLB is involved in finishing up renovation and improvement of the backstage area at Saratoga Performing Arts Center. The work includes a new commercial kitchen for touring groups. All the dressing rooms and a lobby area have been renovated. They also built space behind the facility for three more tour buses and a private entry to get to the backstage area. There were also power and data lines set up therein.
The new 3,000-square-foot medical facility on the backstretch at Saratoga Race Course is complete. It is being operated by Saratoga Hospital, which moved staff in late April. There, care is available for the numerous backstretch workers. 
"We're pretty excited about that one," said Dawsey of the $2 million project.
In Glens Falls, the company completed the renovation of Glens Falls National Bank, which will be the corporate headquarters. The bank had two buildings at 240 Glen St. and next door at 250 Glen St. The $17 million project creates a single 60,000-square-foot building. 
It involved a complete renovation and the creation of a new lobby. During the process, staff was moved to a Queensbury office. Those staffers will return to Glens Falls, as well as some from the South Street branch, Dawsey said.
At the Knolls Atomic Power Laboratory's Kenneth Kesselring site, MLB is building a 100-foot structure costing $15 million that should be complete by march of next year, Dawsey said. Details could not be released because KAPL is a secure government nuclear site.
The company recently landed a contract to renovate the Jim Dandy bar and restaurant area at Saratoga Race Course. The work will start this fall after the 2023 race meet is completed and will be finished before the opening of the track next year.
The company is also continuing to work on the $95 million expansion of the Center for Integrated Science at Skidmore College, home of the college's new science and learning center. The project consists of four phases. Phase 3 is expected to be completed in May 2024.
V&H Construction has been active in Moreau.
Holbrook said his crews are involved in phase two of a project at Common Roots Brewery on Saratoga Avenue. His company rebuilt the business when a fire essentially put the brewery out of business. The work now involves a new outdoor pavilion and an expansion of warehouse space.
Holbrook said the brewery is looking at hosting more meetings, weddings and other such events by utilizing the pavilion. The warehouse space will allow Common Roots to buy more  product in bulk, which will help the business.
The project could be completed in July.
A new Hoffman's Car Wash is being built by V&H at Routes 197 and 9 in Moreau. That project should be completed by the end of the summer, Holbrook said.
Praxis Technology— a manufacturer that produces titanium components for the medical, aerospace, consumer and sporting goods markets—is consolidating operations in a 53,500-square-foot manufacturing complex on Pruyn's Island in Glens Falls and V&H is renovating about 20,000 square feet of that space for the company.
V&H also has a few smaller projects ongoing and keep hem busy for the season, Holbrook said.
Among the projects underway for Hilltop Construction is he construction of a new office and warehouse building on Casey Road in Queensbury. That 10,000-square-foot structure —a combination of pre-fabricated steel and wood frame—will become the new headquarters for the company. Washburn said it should be finished by the end of July, after which the company staff will move in.
Hilltop is also is in the midst of a large project at Garvey Hyundai on Dix Avenue in Queensbury. Part of it is a steel-frame expansion of the building, but the company is also doing a complete renovation of the interior of the entire building.
Hilltop for many years has done many projects for Stewart's Shops and that continues, with two new shops on the docket this year.
Washburn said one new shop will be in Utica. The other is going up on Weibel Avenue in Saratoga Springs. That shop "is a little more elegant" to match the atmosphere of that neighborhood, including a wrap-around porch some more elaborate finishes and decorative trim.
In Malta, Hilltop is building a completely new convenience store with gasoline pumps. Washburn said the 5,000-square-foot building will be independently owned, not part of a store chain. It will be located on Route 9, not far from Northway Exit 12 and work is expected to start this summer.
In Colonie, Hilltop will soon be doing some interior work at an office and truck depot building for Roberts Energy, which provides commercial fuel to businesses and retail fuel to gasoline stations. And in lake Luzerne, the company is building a new piano room at Luzerne Music Center.
"We also have a slew of custom-built homes," said Washburn, including one in Brant Lake, Diamond Point and Queensbury. There are also addition and renovation projects in the area.
Joe Leuci, owner of Foothills Builders in Queensbury said his company is working on a project at 80 Main St. in Queensbury. The building will have commercial space on first floor and 24 one- and two-bedroom apartments on the top three floors. They will be higher-end rental units with balconies and high-end finishes.
On the first floor it hasn't been  decided yet on how many different tenants. That is  "up in the air" as they talk with potential tenants, he said. The project could be completed and for rent by the end of the year.
Leuci has built single-family homes and apartments in Corinth, Queensbury and Moreau. He said there is "high demand" in the Glens Falls-Queensbury area for such apartments. He owns a couple other apartment buildings and there are no vacancies.
He is also working on approvals for a townhome development in Queensbury. Leuci is hoping to transform the former Mead's Nursery and Garden Center on Ridge Road in Queensbury into 60-plus townhomes. 
He said he envisions a "high-end residential community." The buildings would have many amenities and possibly a community room to be used by the residents. He hopes to get approvals this summer, but did not want to speculate when his company might be able to break ground.
Foothills Builders is also seeking approvals for a housing development on a new road "just south of Corinth." The road has yet to be named, he said. The preliminary plans call for a 39-lot subdivision and on it would be built single-family homes and some duplexes.
 Leuci also wants to transform the former Mead's Nursery and Garden Center on Ridge Road in Queensbury into 77 townhouses.
The single- and multi-family homebuilder filed preliminary plans to redevelop the narrow, 11-acre lot that was home to the garden center for 70 years before the second-generation business closed in 2019.
Plans call for the construction of 18 four-unit buildings, plus one building with five townhouses.
The project would be located at 361 Ridge Road just south of Quaker Road, a commercial stretch that is home to a Lowe's home improvement store, restaurants, a Hannaford supermarket and multiple car and truck dealers.
Munter said his company is finishing up work on a 25,000-square-foot headquarters for Solar Foundations USA. They are a design and manufacturing facility of solar panel supports.
Munter Enterprises is also building a structure for the Luizzi Brothers in Watervliet. The 120,000-square-foot building will then be leased by Luizzi to Cargill, an American global food corporation based in Minnetonka, Minn.  Some of Cargill's major businesses are trading, purchasing and distributing grain and other agricultural commodities.
Another project is construction of corporate offices forfor Contractor Sales Co. in Albany. That structure is 3,500 square feet of sales and administrative space. The company that sells, rents and services earth moving, paving and industrial equipment. 
Munter recently finished production floor upgrades and is putting finishing touches on executive offices for Nine Pin Cider in their neighboring and newly acquired 7,000-square-foot  building, expanding their footprint in Albany.
The company recently renovated the bar and dining area at Druther's on Broadway in Saratoga Springs. 
An 8,000-square-foot expansion at KPM Restoration is also being done by Munter. KPM is a damage restoration company that has been serving the greater Capital Region for over 10 years. Its headquarters is in Mechanicville.
Munter will start this fall a 24,000-square-foot expansion  at the Espey Mfg. & Electronics Corp. facility at 233 Ballston Ave, Saratoga Springs. Also on the docket is an expansion project at Tymetal Corp. in Fort Edward that designs and fabricates standard and automatic gate systems. 
In the W.J. Grande Industrial Park in Saratoga Springs, Soleno Inc., based in Quebec, received approval in March to build a new plant estimated to cost about $22 million, situated on 22 acres. Munter will do that work. Soleno hops to create  35 to 50 jobs with an average salary of $70,000 per year.