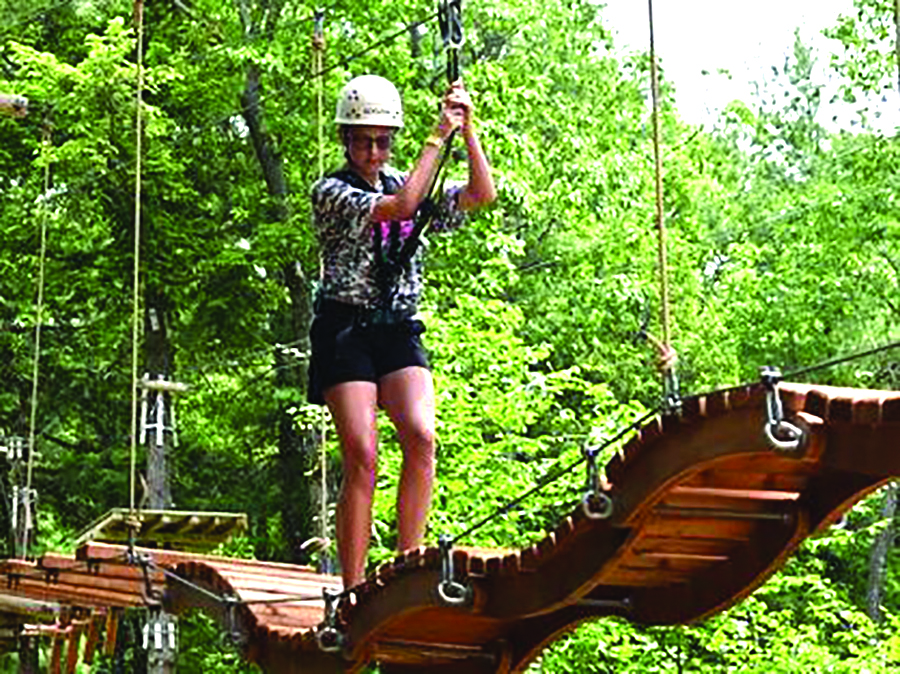 by Paul Post
 Snow is still melting off the slopes and West Mountain already has a full slate of summer activities planned including a brand-new Sunday farmer's market (9 a.m. to noon) from June 4 to Labor Day Weekend.
 "There's really not a lot on this side of town in terms of grocery shopping. I know how successful the Glens Falls Farmer's Market is and thought was a good opportunity to have one in Queensbury and another way of bringing people to the mountain," said Sara Montgomery, who co-owns the resort with her husband, Spencer.
 Vendors will offer farm, food, jewelry, art and floral goods and products.
 Bread maker Rachael Lujbli currently belongs to the Lake George Farmer's Market, but not Glens Falls—which is held Saturdays on South Street—so the West Mountain event is opening doors for her to a whole new customer base.
Rachael's Breads most popular items are sourdough, cinnamon buns and cookies. 
"People are going to find healthier and more local products when they go to a farmer's market," she said. "Everything I have is organic so I feel like it's the perfect market for me."
 West Mountain will have its own farm stand featuring King Brothers Dairy products and pies from the well-known Smith's Orchard Bake Shop in Ballston Spa, which get shipped throughout the country.
 "Our fall festival started small and has grown over the years, so I'm hoping the Farmer's Market does the same," Montgomery said. "It's gotten a lot of publicity, a lot of shares on social media. People seem to be very excited about it."
The market is the latest of several efforts West Mountain has taken to become more of a year-round destination, helping boost the area's tourism industry and drive the local economy.
 A Music on the Mountain summer concert featuring Jukebox Rebellion is set for 6-10 p.m. on Saturday, July 1, including a large fireworks display. Scenic chairlift rides will also be available in addition to cornhole games and children's activities.
 Admission tickets are required and advance purchases are recommended.
 West Mountain's five-acre Aerial Treetop Adventure Park is one of most popular outdoor recreational attractions in summer, with six high-ropes courses for all different ability levels, from beginners to advanced. The experience begins with a chairlift ride to the mountaintop park where guests are outfitted with helmets and harnesses and take part in a safety clinic before tackling the treetop courses comprised of features such as rope spider webs, zip lines and log waves.
Tickets include two hours in the park and chairlift rides up and down the mountain, about three hours total.
 Once again, West Mountain is also hosting three- and five-day Outdoor Adventure Camps for children and young teens ages 6-15 during July and August. Activities are held from 9 a.m. to 3 p.m. each day, with a Camp Care add-on option from 3-4 p.m.
 Kids take part hiking, climbing and organized games designed to strengthen their bodies and minds under the guidance of camp counselors. Early registration is encouraged because space is limited. It can be done online at westmountain.com/camps.
 People of all ages are welcome to take part in other special activities such as mountain biking, hiking and mountaintop yoga classes.
The bike park has over 25 cross-country and downhill trails to try out. Guests may bring their own bikes or rent them, which can be done online. Protective gear is also available. There's an option for buying a picnic lunch as well.
 Scenic chairlift rides begin operating on Monday, June 5, giving people a chance to hike numerous mountaintop trails such as Crow's Nest that leads to the Hudson River Valley Overlook. Hikers are welcome to hike on ski trails. The summit affords panoramic views from Lake George and the Southern Adirondacks to Vermont's Green Mountains. Picnic options are available.
Beginning on Sunday, June 4, Hot Yoga Queensbury is offering 60-minute Vinyasa Flow classes at the mountain summit.
 West Mountain will be open from 9 a.m. to 4 p.m. on weekends through July 2 and seven days per week beginning July 3 through September 3. For information go to www.westmountain.com or call (518) 636-3699.
 This winter's with little natural snow was a major challenge for ski operations. 
"It definitely was slower than the two previous COVID years, but despite the weather we persevered and it was still a strong season," Montgomery said. 
West Mountain is still going through the approval process for a proposed $85 million mixed-use development called Woods at West Mountain. Plans call for a 60-80 room hotel, 64 condominiums, 32 two-unit duplexes and 52 custom homes surrounding a new high-speed chairlift in a village-type setting with a full-service ski store, coffee shop and restaurant.