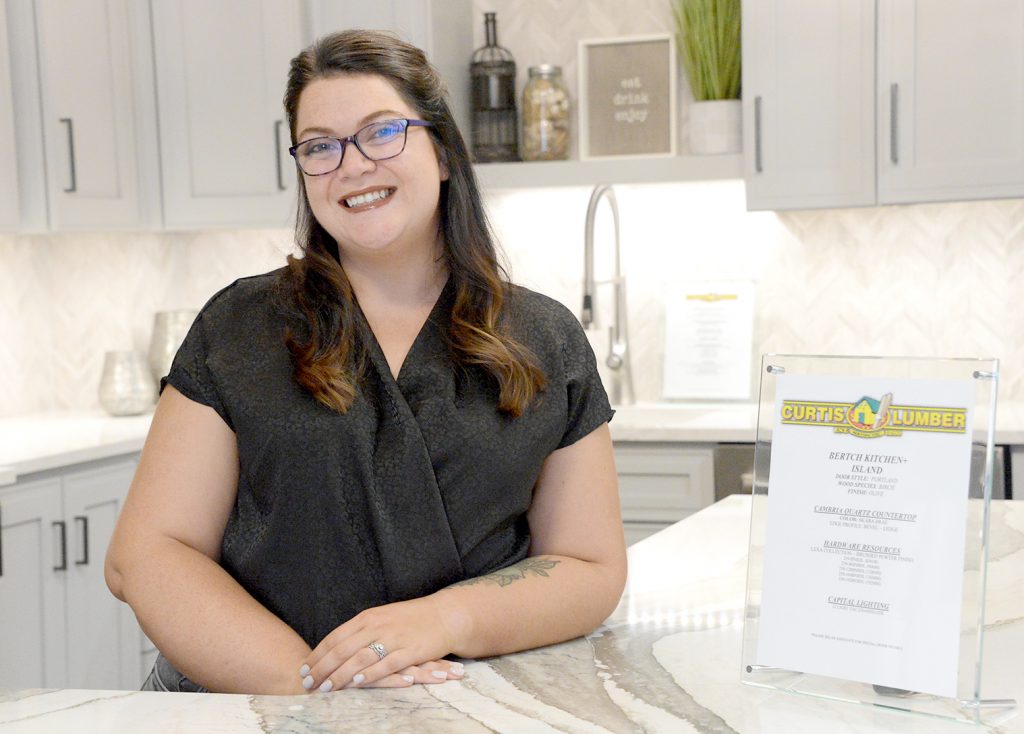 By Christine Graf
While still a student at Galway High School Kylie (Curtis) Holland started working at the front counter at Curtis Lumber in Ballston Spa. Today, the sixth-generation member of the Curtis family is preparing for the day when she will take the helm of the family business.
Her father, Jay Curtis, currently serves as CEO and president of the 131-year old company that has 23 locations and approximately 700 employees. He took over in 1991, the same year that Holland was born.
During the four years that Holland attended college at SUNY Cortland, she made a five-hour round trip each weekend in order to continue working at Curtis Lumber. After graduating with a degree in criminal justice in 2012, she considered attending law school.
"I was faced with a choice of either you go to law school or you work (at Curtis Lumber)," she said.  "Because of the intensity of law school, I knew I couldn't do both. That was kind of my moment where I had to choose. I just couldn't imagine what it would look like to walk away from Curtis Lumber.  I loved it, and I loved the people. That's when I decided this was the path for me after all."
Although her older brother, Christopher, also works for Curtis Lumber, he is not interested in taking over when their father retires.
"He's worked here his whole life as well doing various things," she said. "Over time, as we worked in the business side by side, it was a just kind of natural progression that he didn't necessarily want the responsibility of leadership, and I didn't mind that idea. We had kind of this unspoken understanding as we both stepped into our own that he was content with what he was doing, and I had a desire to follow in my dad's footsteps."
After working her way up to supervisor at the front counter—one of the busiest areas of the store—Holland tried her hand at design.
"I didn't naturally have the knack for that," she said. "But I learned from it and got to understand that aspect of the business."
Her next step was to work in the corporate office where she was able to immerse herself in operations side of the business.
"The best way to learn is to get immersed into the fundamental of how we operate. I did rounds with our different departments to see how they function and how they support the business," she said. "I got to see a little bit of everything."
Holland later assumed her role as part of the executive team. She began by sitting in on executive meetings in order to learn as much as she could about how decisions were made.
"Over time, it became a natural progression that I was able to participate in those conversations with a lot more confidence and credibility rather than just being an observer," said Holland.
After serving in a floating managerial role, she transitioned into a director position. Today, she serves as executive vice president with members of the executive team reporting directly to her.
Although her father has announced no plans for retirement, Holland believes she will be ready to take the helm of the company when that day comes.
"We have a really good team in place," she said. "In terms of support and being able to take that next step, I have a lot of confidence there."
As CEO, Holland will be faced with the challenges of operating a business in an increasingly digital word.
"The digital era is upon us which is something that is super challenging for our industry. We sell lumber. We sell commodity items. Putting that into a digital world is a little bit challenging, but that's where we need to be," she said.
When she becomes CEO, Holland said her management style—at least initially–will be more "hands on" than that of her father's. Curtis became more hands off as he progressed in his career.
"Part of that is because of my newness," she said. "I just want to be able to absorb everything, and that's how he started as well. When he started, he was definitely more involved in things."
Holland expects the eventual transition to be relatively seamless but acknowledges that she will have to prove herself.
"I think I've done right by the company and done right by myself by working in different areas and working side by side with a lot of our people. I'm not just stepping in off the streets. I do think there has been a level of credibility established. But the pressure of it from my perspective is still that I have something that I continue to have to prove to people to make sure that they have confidence in me."
Although she doesn't rule out future growth, her priority when she becomes CEO will be to focus on fine tuning current operations.
"Being able to focus on who we are already serving to me is more significant than focusing on accumulating more locations," said Holland. "I'm always conscious that what we have done under my dad's leadership has gotten us to the successful point that we are at. We are successful for a reason, so I would never come in and say that we should forget how we've done things for the past twenty-five years. But I do acknowledge that there is change that has to happen. It will be about incorporating necessary change while still holding true to the traditions and values that have gotten us to where we are."