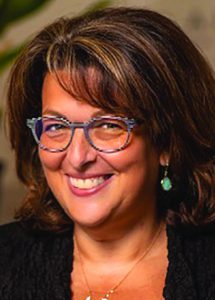 By Jill Nagy
When a company needs a controller, a staff accountant, a chief financial officer (CFO), or similar staff member, but not on a full-time basis, CEFO Advisors can step in. 
The Saratoga company provides a variety of professional staff members on a part-time basis.
Amy Roman has owned the company for 10 years. For the first five years, however, Roman was the only employee. Eventually, she realized that clients "needed more than just me," and for the past five years, she has been hiring staff members and placing them with clients. 
In the early days, one of her clients described her as "the bridge between CFO and CEO."   That is the origin of the company name, CEFO.
Roman has 18 employees including managers, accountants, bookkeepers, controllers, CFOs, and staff training specialists, that she matches with companies needing their skills and expertise. Many are part-timers, working parents, or semi-retired people ready for a second career. They work flexible hours, including working at home, but must be available when the client company needs them on site, Roman said.
Typically, the CEFO specialist will remain with a company for year or more, coming and going as needed.
Company offices are at 125 High Rock Ave., Suite 103, in Saratoga Springs. 
Roman creates a team for each client company and she hires people for specific companies.
"We see ourselves as part of the fabric" of the company," she said. 
Roman begins by evaluating the potential client company, trying to find out "where the pain points are" and how to cure them. She also examines the company's culture and atmosphere using a program called Culture Talk, and matches them with sympathetic employees. 
The Culture Talk program categorizes companies and people according to 12 archetypes, including hero, caregiver, innocent, magician, sage, and creator.  
The CEFO website, cefoadvisors.com, includes photographs of each of CEFO Advisor's employees, with a brief biography and icons for three Culture Talk archetypes that, in theory, characterize them. Even the "magician" or  "sage" must also have the professional skills the client company needs. Roman feels that it is also important to be able to communicate well and fit into the company's culture and the Culture Talk evaluation helps to predict that.
Roman is a Culture Talk certified partner.
CEFO also acts in an advisory capacity, as needed. They can provide staff training, coaching and consulting, and conduct workshops. They do not do tax work, in spite of the fact that there are several CPAs on staff, including Roman.
Before moving to Saratoga, Roman spent 20 years working in New York City, mainly in CFO positions with financial and private equity companies.  At one point, she realized that only a fraction of her time was devoted to CFO duties. The rest of the time, she did other chores, including answering the telephone and seeing that used coffee cups went into the dishwasher. 
 "You do what you have to do because you are there," she said. 
That experience was the germ of the idea for CEFO Advisors—that a company could have a CFO just for the time it took to perform those duties. Let other employees answer the phone and clean up the break room.  
Typically, a CEFO employee works for several client companies at the same time—with everyone protected by confidentiality agreements. They typically remain with a client company for about a year. A "successful exit" occurs when the company grows to the point that they need somebody full-time in the position, Roman said.
Roman grew up in Slingerlands and is a graduate of Bethlehem High School. She majored in accounting and computer science at SUNY Geneseo.  Despite her computer science studies, she takes her own advice and outsources CEFO's IT work to Groff Networks. 
CEFO Advisors can be reached by telephone at 518-693-7446.