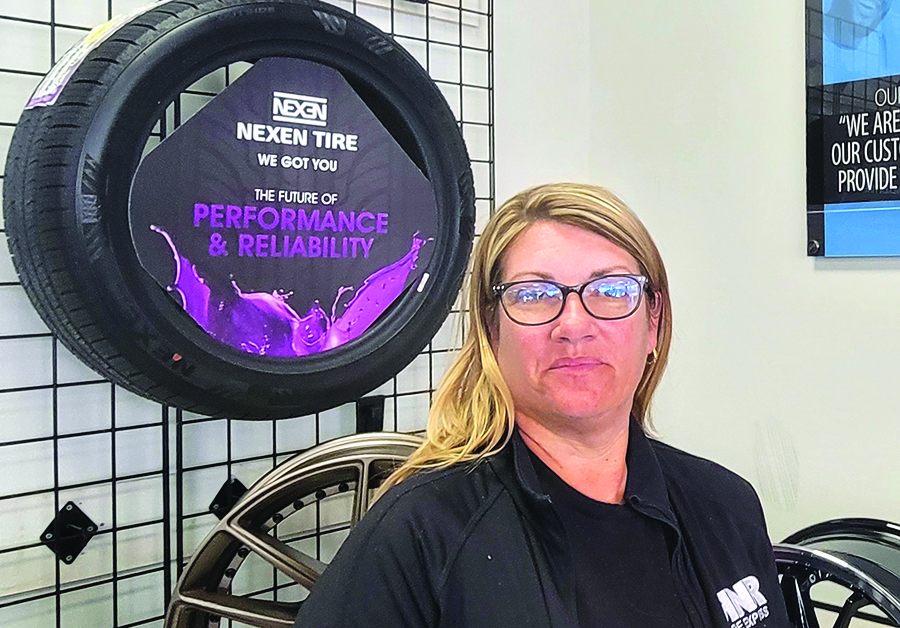 By Paul Post
Patrina Leland wasted no time making believers out of skeptical co-workers and customers in the male-dominated world of tire sales.
In 2021, she was named RNR Tire Express Rookie Manager of the Year for her success with a brand new store at 708 Upper Glen St.  in Queensbury.
Now plans are in the works for a second shop on State Street in Schenectady, with a long-range goal of opening one or two more between Albany and Troy.
"Sometimes people are a little surprised that a woman in this business knows about the tire, the wheel, the bolt pattern, what you can and can't put on it," Leland said. "I can run all the machines out back, set up the alignment rack, do the tire balances."
Her can-do spirit comes from 30 years of work at her husband Jeff's long-time, family-owned business, Leland Paper Co., which became part of W.B. Mason in 2019. 
"I really believe all my years there set me up for this position because I've done all of it—accounting, receivables, payables, sales. I ran the warehouse, loaded trucks and drove trucks," said Leland, who holds an accounting degree from Russell Sage College.
Jeff Leland still works for WB Mason in sales. Patrina stayed on for a while, too, as a customer service representative. But after handling such a wide variety of duties previously, she tired of sitting behind a desk answering calls and decided it was time to try something new.
With Jeff's help, she began researching up-and-coming franchise opportunities and found that Tampa, Fla.-based RNR Tire might be a good fit.
"A couple things about RNR caught our attention," Jeff said.
In addition to outright purchases, RNR gives customers an easy payment option of renting or leasing tires to own with no credit checks, which few or perhaps no other company offers. 
"A lot of people don't have $600, $800 or $1,200 dollars laying around when they get their car inspected and find out they need tires," he said.
But what really resonated with the Lelands is RNR's "serve not service" motto, which means they stand behind what they sell and keep serving customers long after taking payment for their purchase.
"It's one thing to sell a tire," Patrina said. "The most important thing is safety of that installation. Not only did we sell it, now we've got people's lives in our hands. That became a whole new ballgame in my mind, that we need to treat every single customer like they're family."
RNR sells tires made by most major manufacturers such as Michelin, Yokohama, Cooper and Nexen. Every purchase comes with a customer care package for the life of the tires that includes free flat repair, free alignment checks and free tire rotation and balance.
Instead of air, tires are inflated with nitrogen that's more stable and prevents tire pressure fluctuations when outside temperatures rise and fall. Tire inflations with nitrogen are free, too.
Her husband has no official role at RNR Tire, which is strictly Patrina's business. But with decades of business experience under his belt, he plays an important role as her advisor and confidante.
"She bounces things off of me," he said. "I'm a little removed from the day to day operations. Sometimes it's good to have somebody removed from the immediate situation who has a little more objective perspective."
Patrina could have found well-paying employment elsewhere, without half as much stress or responsibility, she said. So why step into the highly-competitive tire sales industry as a franchise owner? There are at least a half-dozen other well-known tire retail stores in the Glens Falls market, not counting the area's many car dealerships and big-box stores.
"I guess I like being my own boss," Patrina said. "I just think customer service should be about the customer and it's little easier to drive that bus when you're the one in the driver's seat."
Plus, she simply likes a good challenge.
The store, one of 165 throughout the U.S., opened in January 2021. First, however, she  had to go through an intensive training course at RNR's busiest retail outlet in Florida.
"They were amazed at how quick she picked things up—the back end, computer stuff, in addition to learning how to change tires over, do repairs, handle the alignment rack. She just has this innate ability to capture things, learn them quickly and then go out and execute them," Jeff said. 
The Queensbury store has six employees. Plans call for opening the new Schenectady store in September.
"I got a new career and a tire franchise for my 50th birthday," said Patrina, now 52. "There's a lot of competition out there, but we try to do our best every day and hopefully customers see that we're a little bit different than everyone else."