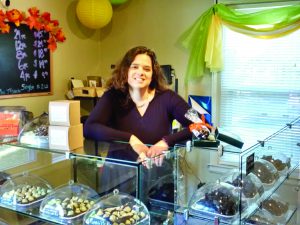 Barkeater Chocolates will soon have its gourmet chocolates, handcrafted in North Creek, available in a local grocery store chain.
The company announced March 2 that its products are being rolled out to 72 Price Chopper and Market 32 stores across New York state over the course of the next several months.
The 72 stores are offering Barkeater's famous Barkeater Bars in five flavors, Grown Up Peanut Butter Cups, a locally sourced all-natural crunchy peanut butter, and two varieties of their "bark" product.
"We've been working with Price Chopper for several years now, and are thrilled that they are choosing to increase our footprint to all of their New York stores," said Deb Morris, a chocolatier and co-founder of Barkeater Chocolates.