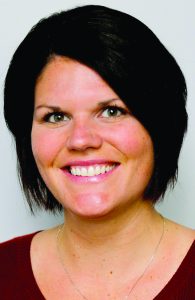 By Susan Elise Campbell
Rebecca Wood was in her new position as resort president of Six Flags Great Escape Resort for only a year when the coronavirus pandemic hit.
"Like everyone else, we were in uncharted territory," said Wood, who prior was director of marketing and sales for the Lake George theme park and lodge. "Last season, the whole world was experiencing something different."
Wood's immediate goal was to keep the staff together and safe, and she said not one full-time person had to leave their job. That was important because growing up she was an athlete who "sees the value of 'team' in whatever we do."
The theme park closed in October 2019 for the season and the hotel was forced to close temporarily early in March 2020.
"There's no playbook for COVID," said Wood. "Our team controlled what was in our control and stayed focused on those things. Our rally cry was, don't think about what we cannot do."
But that is a difficult task when staff is worried about their health and safety.
"We moved some of the team over to the hotel, and they got to see folks work new roles. Operations people went to housekeeping or reception," she said. "The silver lining was the team learning how strong we are."
"Our team was always one resort team," Wood said. "But now someone in food service, for example, who never got to see another side of the resort had an opportunity to get closer to the guests and to each other."
Wood studied public relations and communications at St. Bonaventure University. She was originally from New Hampshire and landed in the Capital Region with Wilton Mall as its marketing and communications manager.
"It was an incredible experience," she said, one in which she learned about the business of shopping centers. More important, she learned she "really loves people."
A friend of hers at the mall transferred to a security job at Six Flags and told her, "this is a job made for you," Wood said.
"While I enjoyed my career up to this point, I saw the amount of time and effort that goes into the Great Escape experience and instantly felt at home," she said. "I have worked for and with a lot of good people, but the people at the park are compassionate. Many have long histories with the Great Escape and are now in full-time management."
"I am proud to be in this region because of the way everyone comes together," Wood said. "The attraction partners, our hotel partners, all worked to maintain our full-time staff and open the hotel in July" under state guidelines, she said.
"And that meant we could give families an abbreviated experience, but still the Great Escape experience. We all learned about safety measures and how to carry these forward."
Wood said she serves as a member on a number of community boards of directors because she "loves this community and the folks who make it special."
She has had a number of mentors along her career path. But first and foremost, Wood cites her mother, who taught her "how to be strong and independent," Wood said. "My mom was the executive director of the Northeast branch of the Internal Revenue Service in North Andover, Mass. I don't know how she did it, but she raised three kids and never missed a basketball or field hockey game."
"She always said that as long as you are learning something new in your work, that is the best you can ask for."