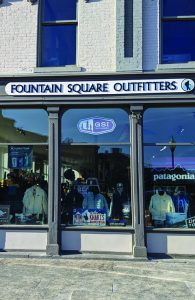 Nancy Fuller, co-owner of Fountain Square Outfitters in Glens Falls, says it has been "an amazing opportunity" to be part of the downtown business community and to watch its growth,
She has seen new businesses come in, new apartments created and the Farmers' Market bolstered. "It's a really cool place to be," she said.
Fountain Square Outfitters celebrates its 10th anniversary on April 22.
The store caters to hikers, bikers those who enjoy being outdoors. The stock is mostly clothing, offering a variety of brands, including Patagonia, with emphasis on the natural and ecologically minded. In fact, Patagonia was the inspiration for the store.
Fuller said they shopped at Patagonia stores when they travelled and thought that one would be a natural for Glens Falls. It turned out the company was not interested in opening a store, but was willing to have them carry the Patagonia line of outdoor clothing if they chose to open their own store.
The business opened in 2011. Except for her husband's law practice, it was the first business venture for both of them.
They found a  location on Centennial Circle in the Barton Mines building. They liked the look and feel of the old brick building and its central location.
"We hope our store creates foot traffic downtown," they said when they first opened. "If we can generate that draw, a vibrant downtown benefits us all."
Barton Mines has its offices on the upper floors. Fountain Square has the street-level portion, including "the cave" in the basement where they sell footwear and sales items.
Both the Fullers are in the store a lot, but she also has another full-time job as  a speech therapist in the Shenendehowa Central School District.  Since September, she has been working in person at the schools.
At present, there are five employees at Fountain Square  Outfitters, but  that number can double in the summer time, including part-timers.
New stock for spring includes equipment for disk golf, a new sport recently introduced at Crandall Park. The store also carries trekking poles, camping stoves, sunglasses, and Darntuff socks from Northfield, Vt. For the less active, there are hammocks. As people are spending more time outdoors and many of them are taking along their dogs, Fountain Square  offers shoes, jackets, boots, life preservers, and other  gear for the canine companions.
Anniversary plans are still indefinite.
"We will be celebrating," Fuller said. They are looking at hats with "cool logos" from Trampoline Designs in Glens Falls to use as part of the anniversary celebration.
The store is open seven days a week, from 10 a.m. to 6 p.m. Hours may be extended in the future. The company has website and Instagram and Facebook sites. The telephone is 518-932-8355.