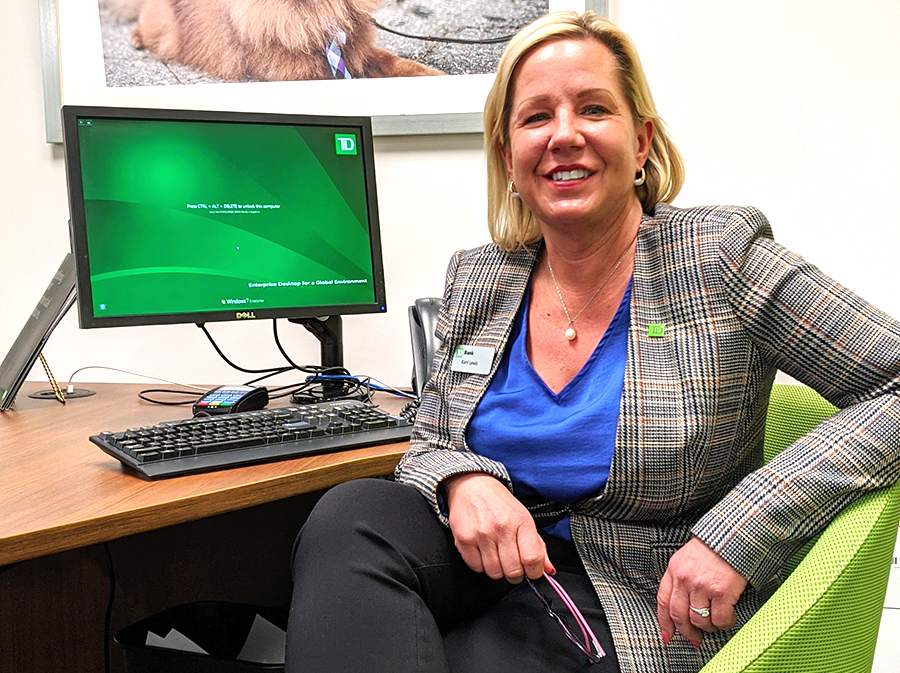 By Susan E. Campbell
Local banks can have both a stabilizing and energizing influence on a community's economy, which is the main reason why Kerri Lewis of TD Bank and professionals like her have pursued careers in banking.
"Connecting with clients is why I've been a career banker," Lewis said. "It's a position that provides me the opportunity to have a strong pulse on the needs of the community and help make an impact."
While at South Glens Falls High School and later at college studying math and psychology, Lewis said she knew what her strengths were but did not know which career setting would best apply.
"During college I took a number of part-time jobs and one was as a teller at a local community bank," she said. "I quickly saw that there were unlimited options in a banking career that I wanted to pursue."
Armed with a business degree through University of Phoenix, Lewis later held a variety of full-time supporting and managerial roles at several community, regional and national banks. She had risen to the position of assistant manager for another major financial institution when in 2010 she accepted an offer from TD Bank, one of the 10 largest banks in the U.S. and with roots in the Glens Falls community dating back more than 150 years.
"What drew my attention to TD Bank as an employer was their culture and vision and their focus on empowering women to reach their full potential," she said.
Lewis said that the Gender Insights Report, published by LinkedIn last year, found that after viewing a job listing, women are 16 percent less likely to apply for it than men. Overall, women apply to 20 percent fewer jobs than men.
"TD Bank continues to find ways to provide support to encourage women to seek all career growth opportunities," she said.
Lewis is currently vice president, store manager of the Queensbury and Glens Falls TD Bank locations. She also supports small business deposit and lending growth across the Upstate region.
Such leadership positions in financial institutions were once dominated by men, but no longer, she said.
"Gender-dominated roles have changed over the years in the banking industry," said Lewis. "It used to be that in middle management roles or under, 80 percent of those roles were filled by women. In senior management roles, more than 80 percent were occupied by men."
While those percentages have improved, there is still more work to be done, according to Lewis. Work/life balance concerns and lack of confidence are prevailing reasons for the discrepancy.
"Banking is a highly performance-driven work environment, which I feel helps build confidence for women," she said. "It offers work-from-home options, flexible schedules, and groups like the women in leadership committees that actively support and encourage women to reach their highest potential by assisting in resume building, interviewing, and networking."
But often women add self-imposed stress. Lewis' own workload at times demands bringing work home to complete in the evenings and on weekends, but she has a system for maintaining balance.
"My spouse and I discuss ahead of time the work we have and the time commitments," she said. "We set aside time where we both complete our work and then cherish our together time without the interruption of checking emails or being on our phones."
When aspiring professionals ask Lewis about the skills they need to work in banking, she explains to them that leadership skills are transferable from one industry to another.
"Having a banking background or understanding products or systems aren't necessarily prerequisites," she said. "Companies are willing to train when they know the applicant possesses the right leadership attributes."
To women she explicitly advises, "Have a mentor. Almost every successful businesswoman and businessman attributes success and door-opening opportunities to having mentors that encourage, support, and provide transparent feedback," said Lewis.
"Women should not let themselves settle for average," she said. "Apply for that position that you can't master today and place value in your transferrable skills."
Banking, like all business sectors, is influenced by how customers prefer to transact, Lewis said.
"That has been evolving and the speed at which it evolves varies by demographics," she said. "It's critically important to us at TD Bank to seek out the voice of our customers, listen to what they tell us, and provide them the best options to suit their personal preferences."
TD Charitable Foundation recently awarded $3.75 million in grants to nonprofit organizations helping to create affordable rental housing in Warren and Washington counties, among others in New York and nationally. For more information, visit www.tdbank.com.