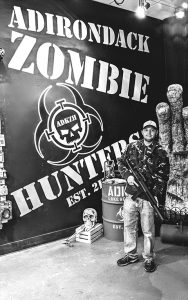 By Rachel Phillips
Adirondack Zombie Hunters LLC has relocated to the Aviation Mall in Queensbury.
Formerly located in Lake George, Adirondack Zombie Hunters, or ADKZH, first opened in 2018. Co-owner Grant Fish II said that part of the reason he and his family started the business in Lake George was to provide indoor entertainment, which he felt was lacking in the Adirondack area. They had always intended to move into Queensbury to be more accessible to their regulars.
"We scouted several locations. The mall had the best space for our needs," said Fish.
The new location is around 3000 square feet, located between Spencer's and Peter Harris. ADKZH re-opened in December. Fish said that apart from some cleanup and building additional props, there wasn't much work needed to get up and running.
"We spent a lot of time and energy making all of our zombies and assorted displays when we opened [in Lake George] and fortunately we were able to bring it all with us. Between my family and our fantastic group of friends we were able to get moved and up and running again in about a month."
Fish was initially inspired to open a business on his way to a gun show in Albany while reminiscing about shooting BB guns and learning about gun safety from his father and uncle as a child. As a lifelong lover of shooting ranges, the outdoors as well as the zombie horror genre, he decided to incorporate his favorite things together to create Adirondack Zombie Hunters.
The main attraction are the two Milo Range Shooting Simulators. Milo Range are laser-based simulators. Originally developed for law enforcement and military training, the simulators function like an arcade game, though they are higher quality and their purpose is to help improve accuracy and develop skills in a safe and fun environment.
Using IR laser-based replica weapons, participants fire at a 7-inch by 12-inch screen. Groups of up to four people can participate in half-hour sessions, during which time they "battle" their way through a simulated zombie apocalypse. During sessions, players learn proper weapon handling and safety etiquette, as well as guidance for improving their skills.
Along with target and competitive challenges, the simulations also offer Glock 17 and SMG weapon platforms. According to Fish, anyone old enough to hold the weapons is allowed to participate, though children under 18 must receive consent from a parent or guardian.
As for retail, Adirondack Zombie Hunters offers a variety of survival and tactical gear, including airsoft, BB and pellet guns, cutlery and survival tools, military surplus and zombie novelties and collectibles.
Their hours of operation are 2 p.m. to 9 p.m. Monday through Friday, 10 a.m. to 9 p.m.; 10 a.m. to 9 p.m. on Saturdays; and 11 a.m. to 6 p.m. on Sundays.
For more information visit website adkzh.com. The phone number is (518) 685-3356.