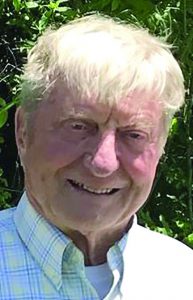 John Munter Sr. was presented with the 2020 Joseph Dalton Community Service Award at the annual dinner of the Saratoga County Chamber of Commerce on Jan. 23 at the Saratoga Springs City Center.
Munter is the third individual to receive this award following Steve "Sully" Sullivan in 2018 and Tom Roohan in 2019.
To be eligible to receive this award, nominees must have a minimum of 25 years of faithful and loyal service to the Saratoga community.
During his career, Munter has helped organizations such as Saratoga PLAN and The Wesley Community and assisted in efforts that include saving Camp Boyhaven in Milton and creating the Bog Meadow Trail in Saratoga Springs.
Munter is a 1962 graduate of Clarkson University. His career started as a rocket test engineer with GE at the Malta Test Division. In 1972, he left GE to form Munter Enterprises, a general contracting construction operation. More than four decades later, Munter Enterprises is now run by his two sons, John Jr., and Mike.