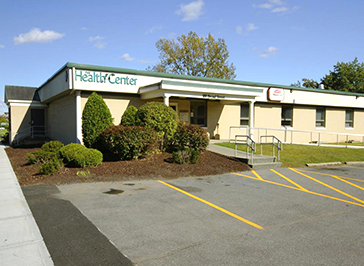 Hudson Headwaters Health Network plans to construct a new primary care center on Larose Street in Glens Falls.
The proposed facility will replace Hudson Headwaters Health Center on Broad Street.
Hudson Headwaters has received grant funding from the state of New York as part of its Statewide Health Care Facility Transformation Program. The total capital investment in the new space will be approximately $10 million.
Officials said investment will allow Hudson Headwaters to design and build a 20,000-square-foot primary care center that doubles clinical space and improves access for patients.
Although not yet finalized, the design of the new primary care center will offer a patient-centered approach with more exam and consultation rooms. The building will be larger and more comfortable for both patients and staff, officials said.
Hudson Headwaters announced earlier this year that it's partnering with Saratoga Hospital to move its urgent care center, which shares space with the primary care center on Broad Street, to a new facility near Northway Exit 18 in Queensbury.
Hudson Headwaters has occupied the 10,000-square-foot Health Center on Broad Street since the 1990s. There are currently 50,000 primary and urgent care visits each year at that center, according to the agency.
"The building that currently houses both the urgent care center and primary care center is insufficient for the needs of patients and staff," said Amy Bloom, executive vice president of network strategy at Hudson Headwaters Health Network. "The new health center will allow patients in downtown Glens Falls to see their primary care provider in a more comfortable environment."
"Hudson Headwaters will soon have a cluster of state-of-the-art health care facilities within a small radius in Glens Falls that serve a broad spectrum of patients," said Hudson Headwaters CEO Dr. Tucker Slingerland. "The new health center on Larose Street, the upcoming urgent care center at Exit 18, North Country Obstetrics and Gynecology at 90 South St. (currently under renovation), and our Pediatric and Adolescent Health Center on South Western Avenue will altogether improve the health care landscape in Glens Falls. These important upgrades will allow our clinical staff to provide improved patient care to the community and are all thanks to the generous support of New York state."
According to Bloom, there is a great deal of planning to be completed before construction can begin.
Hudson Headwaters anticipates a 10-month planning process ahead of construction, he said.
Once designed and the construction contract awarded, the new health center will take a year to complete officials said.
The Hudson Headwaters Health Foundation was founded in 2005 to further the mission of the Hudson Headwaters Health Network, a nonprofit organization. Learn more at www.hhhn.org/support.