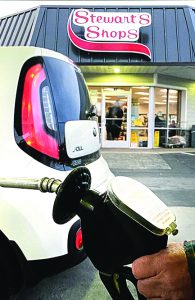 Stewart's Shops has acquired an area gasoline and diesel distribution business that will allow it to distribute gasoline from Sunoco, Citgo and Mobil to dealers located in some of its coverage area in upstate New York.
The local company acquired the distributorship from Polsniello Fuels, a 68-year-old third-generation company in Rensselaer.
Stewart's said it plans to continue working with dealers who previously did business with Polsinello, and is considering a remodel for some of the acquired gas stations.
"As we continue to grow our business, this acquisition gives us the opportunity to diversify by expanding deeper into the fuel wholesale business," said Stewart's Shops President Gary Dake in a news release.
Polsinello now will focus on its lubricant and motor oil supply business. Lou Polsinello, company vice president, said in a release that the business will continue to deal in lubricants and motor oil distribution, and that dropping out of the gasoline retail business will help them to grow in those other areas.
"Finding the right partner to entrust our legacy and customers was our highest priority," Polsinello said. "We believe Stewart's and Polsinello are both made stronger by this transaction and we are excited for what the future holds for both of our growing organizations."
"This transition strengthens our standing as an industry leader and enhances our continued growth strategy to distribute premium lubricants and motor oils from Gulf Oil, Shell, Pennzoil, Quaker State, Phillips 66, and Kendall brands throughout the Northeast market," he added.
According to media reports, Stewart's invested $6.6 million to purchase Polsinello Fuel's wholesale fuel supply business. The transaction closed Jan. 22.
The acquisition gives Stewart's ownership of five Polsinello gas stations located in Colonie, Rensselaer, Schodack and Troy. Those locations will continue to be managed by independent retailers through leases with Stewart's.
The transaction gives Stewart's ownership of fuel supply agreements that Polsinello had with 10 gas station and convenience store owners between the Albany region and Massena. Stewart's said it will contract with outside fuel haulers to deliver gas and diesel to the five new properties it owns as well as the properties controlled by 10 other dealers.
The company said it will be able to build a wholesale distribution business over the next few years as more small and medium-size convenience store operators search for ways to reduce costs and remain profitable as state regulations continue making it harder to compete.
It is the latest investment by Stewart's, which confirmed earlier this month that it is increasing its capital expenditures this year. The company spent about $50 million on remodeling stores and adding new ones over the last few years.