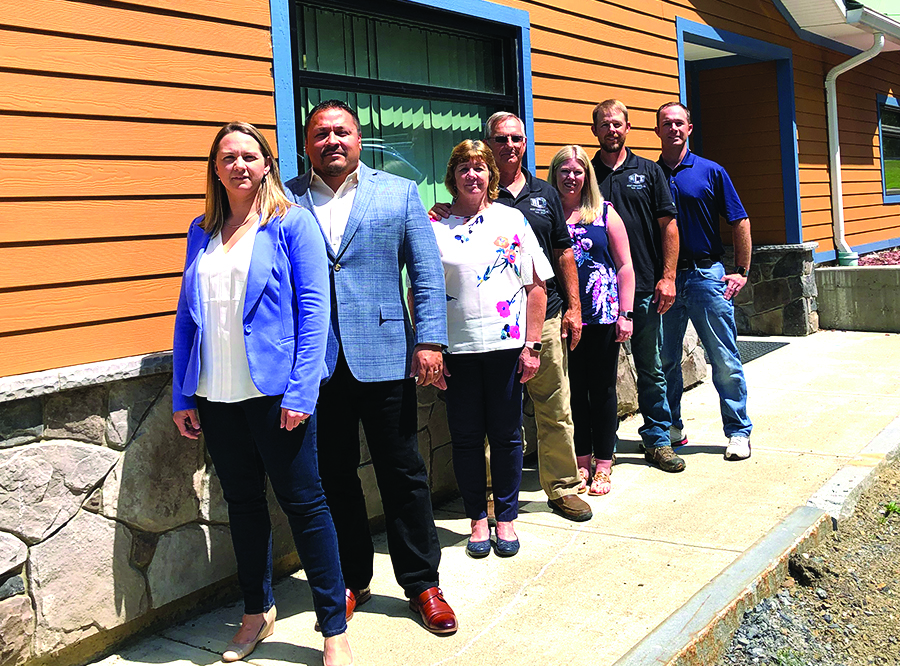 by Andrea Palmer
Hunt Companies Inc. (HCI) is a general contractor in Argyle that recently underwent Phase 1 of succession planning, as Amie Gonzales was voted in as president at the annual shareholders meeting in January.
The company was started by Amie's parents, Dennis and Cindy Hunt, over 30 years ago. Juan Gonzales is the chief financial officer, as well as Amie's husband. When Gonzales began visiting then-girlfriend Amie many years ago, he saw first-hand the grit Denny and Cindy put into keeping the company running.
"Their vision was, as a general contractor, to take care of the team and take care of the employees through all the ups and downs," said Gonzales. "They went through the full spectrum of what a lot of small businesses go through—paying payroll with credit cards, taking money from their personal savings to keep the company alive, Denny spending hours upon hours in the field during the day and then hours upon hours on the laptop at night. Keeping the company afloat."
The Hunt Companies niche is the restaurant business, specifically fast food. They have done work for McDonald's in Boston and the surrounding region. Hunt Companies has also done work with Popeye's, Taco Bell and other restaurants.
Amie and Juan Gonzales met while serving in the U.S. Navy. Amie returned to Argyle after spending eight years in the Navy and was employed by the family company as a project manager in late 2013. Juan followed her about a year later upon retiring after more than 20 years of military service.
Everything changed in 2015, when the McDonald's Corp. fired their CEO and brought in a new one. All construction was halted for a year.
"At that point, we lost 85 percent of our revenue within one phone call," said Gonzales."We had to change who we were, but didn't want to change what we were about. And that is where Amie's new vision of the company was born."
"Amie's vision is this: We want to have the heart of a small company, but need the stability of a large company in order to provide more to the employees and community throughout the good and the bad years," said Gonzales.
"At one point, I could count on my fingers how many months the company had cash on hand for payroll. We took a page out of Milton Hershey's playbook. During the Great Depression, Hershey wanted to take care of the employees. He kept building projects during that time so none of his employees were laid off. We, being students of history, did something similar."
Hunt Companies was in the midst of renovating their headquarters when they got the call from McDonald's. Instead of suspending renovations, the company used the renovation to provide work for employees.
"Common sense said we should have stopped the renovation. We had a lot of unknowns. Instead, we kept going and it allowed us to provide over 4,000 hours of employment to our employees that we wouldn't have been able to justify any other way," said Gonzales.
In 2016, McDonald's resumed construction.
"The last few years have been record-breaking years for our company," said Gonzales. "We've been able to continue to give more to our employees, in addition to building stability for the company. Right now we're on the cusp of seeing our vision fulfilled."
"We're starting our busy season with multiple projects in New York, Vermont and New Hampshire. We're contemplating Western Mass as well. As a small company in Argyle, we touch three states with employees in all of those states," said Gonzales.
"Amie's background is military, with a college degree. She's bringing that business sense to the company," said Gonzales. "We've added a dual approach to the business. The admin team is not a team that just sits back and reacts to the fires of today. We anticipate the challenges of tomorrow and solve them, while our ops team is always looking at efficiencies to continue to bring in more money without charging more on estimates."
Hunt Companies has made good on their commitment to their 20-plus employees. All are full-time, permanent positions. The company picks up 70 percent of the cost of health insurance. Bonuses are paid annually. They also have profit sharing and a 401(k) plan.
As jobs slow down in the winter, Hunt Companies takes the opportunity to train employees.
"From March to October is when we're busy. In the slower times, we focus on interior work. And since we have the harsh winters, there's always the phone calls for maintenance and repair work. But most importantly, we bring in trainers from OSHA, heavy equipment trainers, you name it. We have an internal training program where our senior carpenters spend some time teaching junior carpenters framing skills. We put on training away from the stress of an actual job, where employees actually have time to learn," said Gonzales.
"Amie Gonzales and siblings Jason Hunt (vice president) and Matt Hunt (project manager) are all involved in the business.
"Our vision is to set this company so we are caretakers until the third generation is ready to take it over. Between Amie, Jason and Matt, there are six grandchildren," he said.
More information can be found on the company at www.huntcompanies.net.