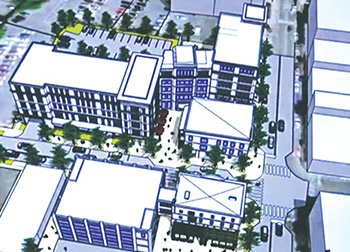 By R.J. DeLuke
The Glens Falls Planning Board approved the architectural site plan for the $30 million overhaul of South Street.
The board's action took place Oct. 4.
The plan being carried out by SpringCity Development Group, a subsidiary of Bonacio Construction in Saratoga Springs, calls for  renovating three vacant buildings while adding a five-story apartment complex.
It is all part of a major, long-envisioned rehabilitation of that part of downtown. The city received a $10 million Downtown Revitalization Initiative grant from the state in 2016 to push the project along.
Larry Novik, business development director for Bonacio Construction and SpringCity, said the first phase will take about 12 months. The company is working with Glens Falls Farmers' Market Association to make sure market vendors are not disturbed in either the summer of 2023 or 2024 by the construction.
Approximately 90 apartments will be built, something economic development officials fee is vital to the area. Also, nearly 14,000 square feet of commercial space at the corner of South and Elm streets will be built.
At the Planning Board session, Jim Siplon, president of EDC Warren County, spoke about the need for more residential housing units in the city and surrounding area.
"Somebody needs to stand up the way Ed would have," he told the board, referring to the late Ed Bartholomew, longtime president of EDC Warren County who was instrumental in developing the revitalization concept and getting state funding for the project.
"This is not just of interest to our residents here. It's a fundamental part of the economic future of northern New York," he said. "I feel like sometimes we get lost in the minutia of what we have to deal with. I wanted to remind you just how important it is.
"It's important emotionally because it signals what I consider to be the culmination of the swing around for not only for Glens Falls but the entire region. It's important because it is a visual signal to the community that we're committed to a brighter, sustainable future that is a better version than even what we've had in our illustrious past."
Siplon said it will also address "our most glaring need we have in our economy"—not having enough housing for the workforce that's needed in the area.
Siplon said routinely there 1,500 to 2,000, and sometimes 3,000, job openings in the county.
"Today, the number of housing units of any type, at any price point, do not add up to 800," he said.
He said if economic development efforts were successful in filling the available jobs "we would have no place for them to live."
It t is important to add needed housing in the area "to make sure that the economic vitality we've invested in does  bot accrue to another community. If we're going to row into the best version of ourself, we must be able to house people who want to be here."
The project commercial part of the project is also a key, expected to help attract more private-sector investments and more restaurants, offices and shops throughout downtown.
Libby Coreno, attorney for the SpringStreet Development, said  there have been threw iterations of the project as they responded to the city's concerns and input.
The first phase will cost $7.9 million and involve converting a three-story warehouse at 36 Elm St. into a mixed-use building with eight apartments and 4,677 square feet of commercial space.
SpringCity will renovate the former Hot Shots bar, a three-story brick building at 45 South St., to create four apartments on the upper floors. The lower floor will include about 2,300 square feet of commercial space.
A third building housed the former Sandy's Clam Bar at 41 South St. It will be converted into a 3,000-square-foot restaurant with six apartments on the upper two floors.
Officials said the second phase, costing about $22 million, will include construction of a five-story building with 70 moderate-income apartments with outdoor courtyards and a pavilion. There will be 3,800-square-foot commercial area in that section.
SpringCity is applying for state tax credits to help finance that project.