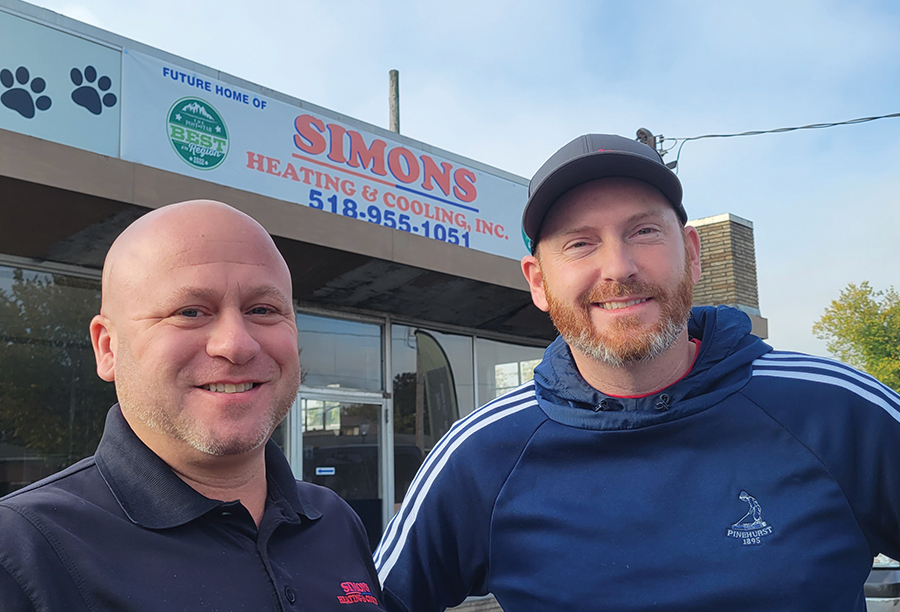 By Paul Post
Simons Heating & Cooling Inc. in Glens Falls, which serves customers from Ticonderoga to Albany,  recently moved into new headquarters with over three times more space to accommodate its rapidly growing business.
"We have 11,000 square feet compared to 3,000 at our old location," said founder and co-owner Dave Simons. "Everything is under one roof now from sales staff to warehousing and we own this building, whereas we were renting before."
The 28-employee firm recently moved from 47 Main St., Queensbury, to the former Glens Falls K9 building at the corner of Warren Street and Oakland Avenue in Glens Falls.
"It was real important to us to have great visibility from the road at a four-way intersection where people stop and see us," said Jason McCormack, co-owner and director of operations. "Most HVAC companies don't have walk-in traffic where people can go into a showroom and discuss with a salesperson about what's new on the market and what's trending, or just simply come in and schedule a service appointment."
"We want to attract people to come to our building, not just be another warehouse they drive by," he said. "We'll have signage out front with special offers so people can notice it and come in."
Simons said the approval process for moving to Warren Street went quite smoothly as city officials were glad to see the vacant property repurposed. The site has ample parking for customers, employees and company service vehicles.
"We're pleased to welcome Simons Heating and Cooling Inc. to Warren Street," Mayor Bill Collins said. "It shows the continued interest in businesses locating in Glens Falls."
Simons and McCormack hope to open an unrelated retail business in a separate, small building closest to the intersection of Oakland Avenue, possibly a liquor store or cannabis dispensary. Another developer reportedly has plans to build a new apartment or town home complex on vacant property adjacent to Simons Heating and Cooling, further improving the Warren Street corridor.
The company's move was made possible in part with a portion of money in the city's Small Business Recovery Fund, designed to help firms recover from the COVID-19 pandemic.
The property purchase, building renovation and relocation was an 18-month-long process. The building's gleaming interior looks virtually brand new following an extensive makeover to flooring, ceilings and the installation of new phone and HVAC systems. In one section, new walls were framed up to create a quiet room for sales staff to work from, with cubicles of their own.
Friends and fellow Lake George High School alumni, Simons and McCormack are went their separate ways after graduation, but teamed up several years ago to lead the company together.
Simons learned the industry from his father, who had a similar business in Connecticut where the family lived before moving to Warren County. He also took BOCES heating, ventilation and air conditioning classes in high school. Then he went to work for Queensbury-based Northern Mechanical Services before launching out on his own, first operating from his house and storage units, then setting up shop on Main Street in Queensbury near Northway Exit 18.
McCormack's background is in management. He managed different companies including a  commercial landscaping firm with 40-plus employees in California. "But Dave and I had always kept in touch. I had recently gotten married, wanted to raise a family and decided it was time to move back to the East Coast. We got to talking about what this business needs to grow and what I could bring to the table, so we partnered up and that's where we are today."
Like many successful young entrepreneurs, they were faced with the challenge of finding good people they could delegate duties to and trust them to do a good job.