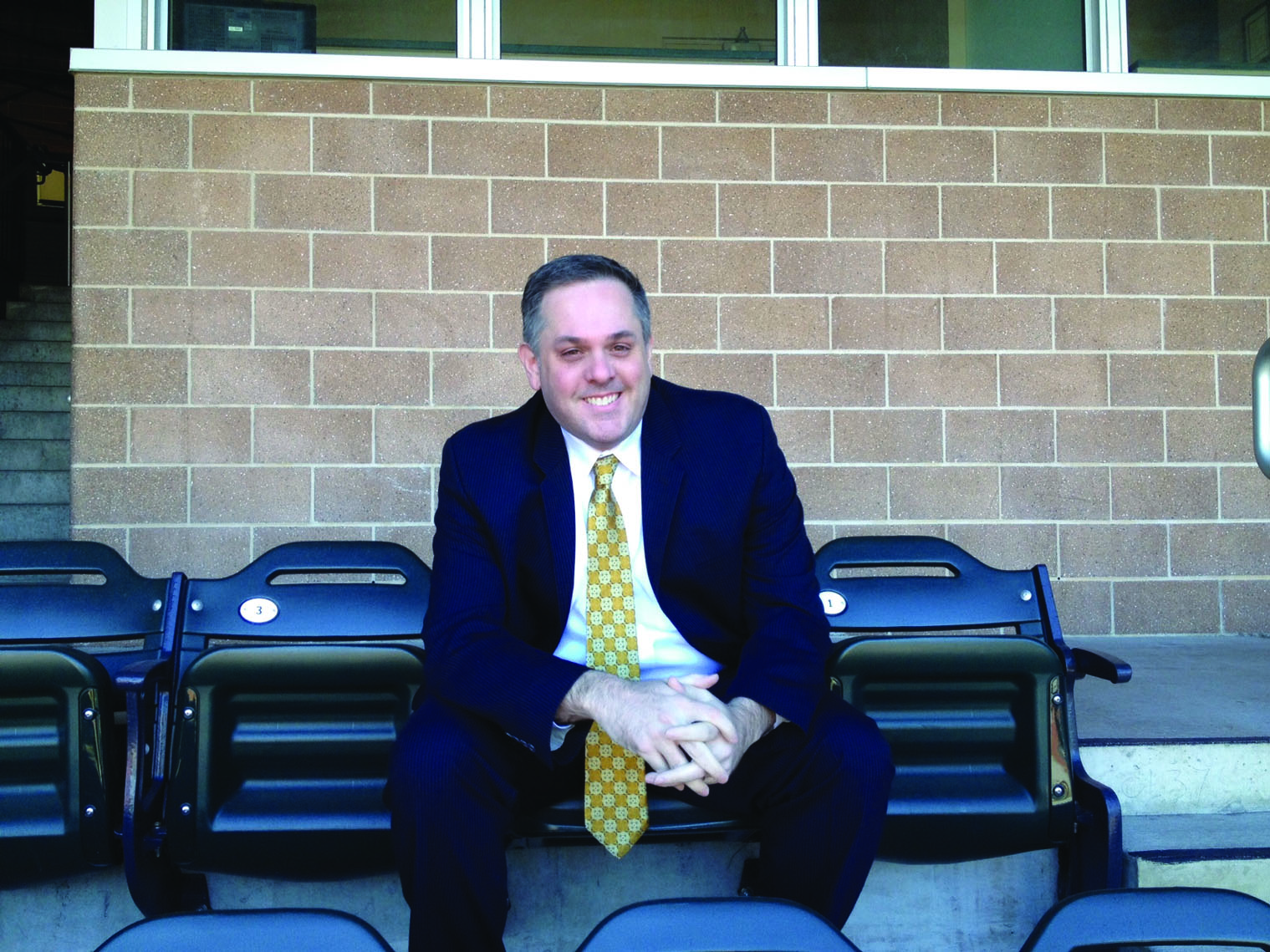 By Marion E. Altieri
When the time is right for an idea, it happens, and sometimes you have to be ready to jump on-board right then. No time to sit and ponder whether this is a good idea, or if you have the energy to keep up. The time is right; the opportunity presents itself and you're called upon either to paint or get off the ladder.
Mark Burritt, owner of MVP Suite Rides, chose to paint.
Burritt's story starts with the passion factor–that untouchable thing that motivates men and women to perform great tasks, take unthinkable risks and venture far outside their comfort zones, because it's worth it. Passion for a job would be a great benefit, but unfortunately, mere jobs usually don't push the passion button. Passion is where vocation enters the equation; when you love something with absolute, unbridled, almost blind abandon–that is passion. When you find a way to live your passion–and help others to explore that shared obsession with you–that is when you willingly trade working 9-to-5 for striving 24/7, simply because you love it.
Mark Burritt and his wife love baseball. They love baseball so much, in fact, that on a spur of the moment, they took a tour of every major baseball park they could visit within a week. They just jumped into the car, and took off for adventure.
The thrill of that experience–in concert with the excitement of just leaving town to follow a dream–left the couple breathless. There's that Right Timing thing: in the wake of their whirlwind tour of baseball stadia, Burritt knew that he had to share this experience, this joy, with many others–and MVP Suite Rides was born, only five months ago.
Burritt, as any sports fan, knows that going to a new town to experience your favorite team (or horse, as it may be) involves a lot of work. Googling for accommodations and travel arrangements are just two of the hassles involved. So many questions to ask: How to get great tickets/seats for the event? What's the least-exhausting, most cost-efficient way to travel to the destination? Where should we dine–and what restaurants should be avoided? (A bad meal in a strange town can turn into a horror show.) The most important thing to consider is, Will this trip be fun, in the end?
Planning a visit to a place you've never been, to see a sporting event, should be cause for eager anticipation, but making your own arrangements can be so discouraging that you cancel the idea of the trip, in favor of sitting at home and watching the game or event on TV.
Burritt now lives on Long Island, but his heart and his roots are in Glens Falls. He's a local, and he knows how local sports fans think and feel. Being on the Island, and with professional experience working for the Yankees, the Mets, and MSG, he knows his way around the world of major league sports. Following the Burritts' spontaneous baseball stadia tour, he realized that he could utilize this vast wealth of insider's knowledge, and his proximity to New York City to create a company that could take sports fans, their families and friends directly from their hometowns, to great seats at any venue they desired, for any game, race or event.
Usually only rock stars get to travel in luxurious rides–both large (Silver Eagle buses) and smaller, elegant coaches. These are well-appointed, roomy vehicles with comfortable furniture; tables for card games en route; extraordinary fare for the trip and a host or hostess who has a vast body of knowledge about the destination and sport. While some groups may desire a day trip to their favorite venue, others may decide to make a weekend–or even a week–of it to explore every facet of the venue, meet key players in the game, walk where the greats have trod, and stay in exquisite accommodations, dining at the best establishments in town.
Your rock star posse may want a day trip from Glens Falls to Yankee Stadium, then back after the game. Or you may decide to trek from Upstate–or Manhattan–to Pittsburgh, Boston, Montreal, D.C. or any of a long list of destinations for an extended period of time. MVP Suite Rides has you covered. The company website lists several packages and ideas, but your needs are the final determining factor. If you and yours want to design a package custom for yourselves, working with MVP's consultant, the sky's the limit. Baseball and football games are now on the agenda, but Burritt and his team are ready to serve up whatever sporting event you seek. (There's talk that horse racing–Belmont, Saratoga, Kentucky, etc.–may be on the menu soon, according to demand.)
Whether you have eight friends or an Alumnae/I group of 40 who want to explore the sporting life, MVP Suite Rides are ready to step in and plan it, from concept through completion. You may have just a vague idea–that you'd like to go somewhere, to see a game–or you may be a hard-core fan of specific teams, and know precisely what you want. Burritt's knowledgeable consultants will sit with you and plan every facet of your adventure, from the snacks you consume upon boarding your coach to entrees at restaurants for group dinners.
MVP Suite Rides is a company that came into being because of love of baseball, specifically, and the love of company founder, Mark Burritt, for helping other sports fans explore their most-treasured dreams. Dreams of seeing their favorite sports live, while also enjoying both the trip and even the planning thereof. Burritt's wish, to be the liaison between major sporting entities and their adoring fans, gives him and his team the unique ability and insight to plan trips that compromise nothing in comfort or luxury or enjoyment.
Traveling with MVP Suite Rides to any sporting event is akin to road-tripping with your best friends: the "sweet" in "Suite Rides" is that you can take your best friends with you, and rest assured that your new friends have made all the arrangements, with your best in mind.
Mark Burritt and the team at MVP Suite Rides can be contacted at questions@mvpsuiterides.com or by calling (516) 680-3843.
Photo Courtesy Of MVP Suite Rides