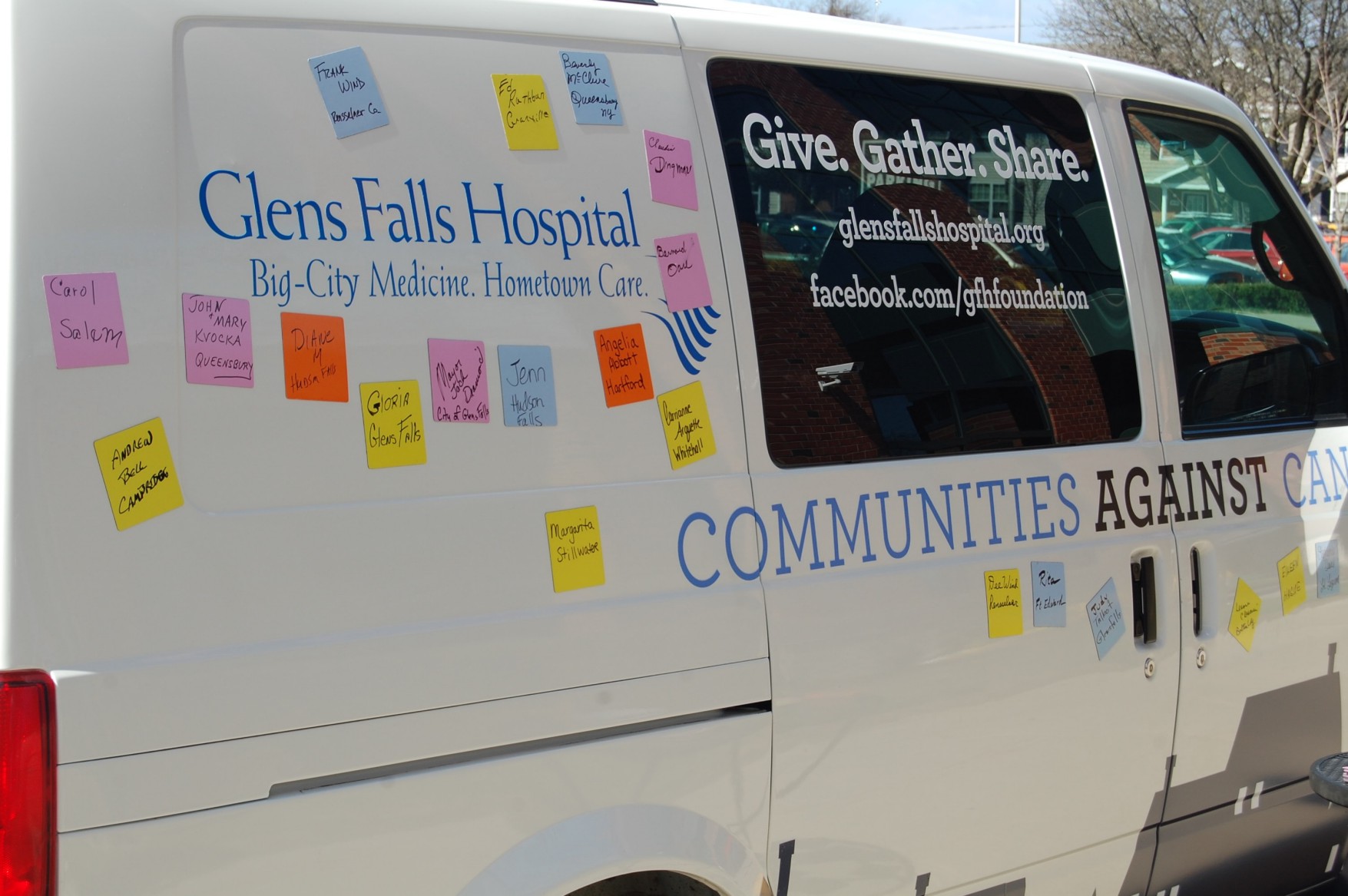 Glens Falls Hospital has launched a region-wide "Communities Against Cancer" Annual Fund campaign to raise $2 million for the purchase of advanced radiation therapy technology for its nationally accredited C.R. Wood Cancer Center.
Approximately 1,000 newly diagnosed cancer patients are treated at the Center each year, and approximately 600 of those patients receive radiation therapy. Proceeds from the campaign will go toward the nearly $4 million total cost of a new linear accelerator, the technology that delivers cancer-destroying X-ray and electron beams to cancerous tumors.
The Cancer Center currently has two linear accelerators, both of which precisely shape and direct the beams to maximize the radiation dose to the diseased area and minimize the impact on surrounding healthy tissue. The new linear accelerator will provide advanced capabilities such as stereotactic radiosurgery for treating tumors that are highly complex, irregularly shaped or located in difficult to reach or highly critical locations. For some patients, treatment regimens could be reduced from five to seven weeks to one to three days, and daily treatment times cut from 20-30 minutes to as little as two minutes. With the addition of the new technology, the Cancer Center will retire the older of its two existing accelerators.
"Linear accelerators are the cornerstone of our radiation oncology program," said Dr. Alex Frank, director of radiation oncology. "I feel very strongly when I tell you that the addition of this new technology will make a meaningful difference in the lives of local people."
Glens Falls Hospital Foundation Chair Kathie L. Duncan is one of the tens of thousands of people who have been treated at the Cancer Center and was among a group of more than two dozen cancer survivors who participated in a special event to launch the region-wide fundraising campaign. "Everyone knows someone impacted by cancer," Ms. Duncan said. "Cancer touches people across every community in our region."
That sobering truth is what led the Hospital to choose "Communities Against Cancer" as its campaign theme and rallying point for philanthropic support.
"Glens Falls Hospital and the C.R. Wood Cancer Center serve people across six counties and beyond," said Sandra J. DiNoto, vice president of philanthropy and community relations. "By joining together, our communities have the power to make a real difference in the lives of local cancer patients — and we will need the support of all communities to reach our very ambitious goal."
Ms. DiNoto said, "The Hospital is referring to communities in the broadest sense of the word — families, neighborhoods and entire municipalities … businesses, civic groups, churches and schools."
To help reach into those communities, the Hospital has created a "Communities Against Cancer" van, which will be dispatched to special events and high-profile locations across the region. For a small donation, people will receive a magnet upon which they can write their name and community and affix it to the van as a show of support; donors will also receive a "Communities Against Cancer" magnet for their own vehicle.
"Community support is absolutely essential to the Hospital being able to continually upgrade its medical technology and provide our communities with an extremely high caliber of care right here at home," said President and CEO David G. Kruczlnicki.
Mr. Kruczlnicki said the payments the Hospital receives from Medicare, Medicaid and private insurers at best cover the cost of the medical professionals and supplies needed to provide a patient's care, with no provision for technology purchases. Likewise, he said, the Hospital's razor-thin operating margin leaves little money for these upgrades.
"Like most hospitals in New York State, we break even, if that. In 2011, we had a two percent gain," Mr. Kruczlnicki said. "That means for every dollar that flowed through the Hospital, at the end of the day, we had two cents left over. That translates to a mere fraction of the seventy million dollars we've needed to invest in medical technology over the last three years."
More information about "Communities Against Cancer" can be found at www.glensfallshospital.org and www.facebook.com/gfhfoundation, or by calling the Glens Falls Hospital Foundation at (518) 926-5960. Organizations interested in hosting fundraisers for the campaign are also encouraged to notify the Foundation of their plans.