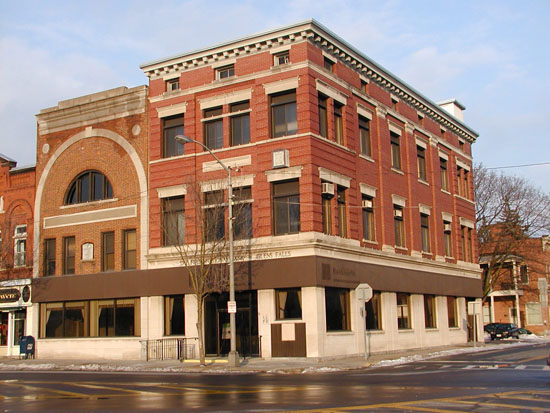 By R.J. DeLuke
Construction projects are already buzzing in the Glens Falls region, including a pair of projects in the village of Hudson Falls that officials hope will upgrade the face of downtown.
Peter Hoffman, president of Glen Street Associates in Glens Falls, is finishing up a renovation project called Bank Commons, 124 Main St. in Hudson Falls.
The project occupies a city block, with a parking lot. The 18,000-square-foot project will feature three luxury apartments with two bedrooms each. On the ground floor will be commercial space. There is currently a flower shop there, and there is more available office and commercial space.
The building is renovated with bright tall windows, hardwood floors, an elevator and high ceilings. A historic property constructed as The First National Bank of Hudson Falls at the turn of the 20th century, it sits on the southern end of Juckett Park in the village. The apartments boast granite counter tops, stainless steel appliances, ceramic kitchens and baths, elevator service and private parking.
The project "benefits the village forever more," said Hoffman. It has been vacant for about six years and will become 6,000 square feet of usable space to benefit the village's downtown area.
"You've got to turn the lights on in these buildings that have gone into disrepair," he said, referring to transforming them into bright, modern, usable properties. "If you turn the lights on, you revitalize a city."
Bruce Levinsky of Merlin Development in Saratoga Springs is making further renovations to 221 Glen Street in Glens Falls, that once housed Godnick Furniture. There is currently commercial space on the ground floor, but the three upper floors are being transformed into 20 upscale apartments.
Levinsky said the interior demolition phase of the project started recently. He expects the apartments to be available by the fall.
The need for more apartments in downtowns like Glens Falls and Hudson Falls, he said, "is a reflection of the migration of people from areas outside the city to downtown urban living."
He said the Glens Falls area has a lot of potential in that regard and "is reminiscent of the early development of the city of Saratoga Springs."
Hoffman has another project going in Glens Falls, where Warren Street Square on Warren Street is finishing up.
After a historically sensitive renovation, the 21,000-square-foot portion of the building is already being leased. The spaces boast hardwood mill floors, brick walls, antique architectural lighting and there is plenty of off-street parking.
Warren Street Square is right in the center of downtown. The L-shaped building is located at the corner of Warren and Jay streets and stretches in the back to Fredella Avenue.
A 6.5-foot diameter clock sits atop century-old building. The clock bears the name of one of the building's early owners, the Joubert & White Carriage Co., a carriage and buckboard manufacturer that operated at the Warren Street building in the early 1900s, according to Hoffman.
A circa-1950s Frederic Remington reproduction bronze statue that Hoffman bought from a dealer outside Boston sits in a garden courtyard outside the complex.
Among other activities in the region, The Michaels Group, which has an office in Malta, is involved in a variety of housing projects in the area. Its newest neighborhood is called Pruyn Crest, located in the South Glens Falls school district.
Cindy Quade of Signature Homes Realty and director of sales for The Michaels Group, said the neighborhood will consist of 40-plus traditional single-family homes and will feature some of the company's most popular designs along with some new home plans to choose from.
"We have already started receiving phone calls and e-mails from prospective purchasers asking to add their name to the list for when we open for sales and we haven't even made any announcements or advertised yet," she said.
In Queensbury, The Michaels Group just introduced The Villas at Hiland Crossings, which offers a choice between attached town homes or detached single-family homes, both maintenance free.
"There is a big demand for the Villa style home that still provides for that maintenance-free lifestyle. We did this in our Halfmoon neighborhood, Sheldon Hills, and it was hugely received," she noted.
Another newer project is Knox Lane in Glens Falls, a small neighborhood of seven homes on a street with a cul de sac. Sutton Place, near West Mountain, has a few sites left, she said.
Woodscape II in Moreau will consist of 54 homes that are traditional single-family and also maintenance-free single family homes, said Quade. That development is about half filled out, she added.
Scott Shepherd, vice president of operations at MLB Construction recently finished a project related to Queensbury-based SUNY Adirondack. The college now has another campus in Wilton, on Route 9, that makes it easier for residents to the south to attend. The two-story, 30,000 square foot structure of Route 9 contains classrooms and offices and was put to use in the fall 2012 semester.
"It's a really nice facility; a great addition for this area," Shepherd said.
MLB "is excited about everything going on," he said, noting that the presence of the mammoth GlobalFoundries microchip fabrication plant in Malta has become "a game changer" in terms of boosting the local economy.
Kent McNairy, president/treasurer of Northern Design & Building Associates Ltd. in Hudson Falls, said he anticipates a modest improvement for construction in 2013. His company does on-the-lot design and build of homes for people who already have their lot purchased.
He said he has projects going in Pilot Knob near Lake George, Assembly Point, also near Lake George, Long Lake, Plattsburgh and Old Forge. His firm does jobs throughout new York and New England, so his look at the economy is not focused just on the Glens Falls region.
McNairy said financing for home buyers still remains difficult, as banks have tightened requirements. It has made it difficult for some people to qualify. In the past, it may have been too easy, he noted, "but the pendulum has swung from too easy to too difficult." Still, he foresees a rise in activity of 10-15 percent over last year.
Tom Albrecht of Hilltop Construction in Hudson Falls said he is "extremely optimistic" about the local housing market. "Money is starting to move. There's a pent-up demand" for new housing, he said.
Hilltop has a project going on in Highland Park in Queensbury and is also involved in renovations to the offices of the Glens Falls National Bank and D.A. Collins Co., both in Glens Falls.
His company is also doing work inside Crossgates Mall in Albany, doing commercial setups as new tenants move into spaces where other tenants have left.