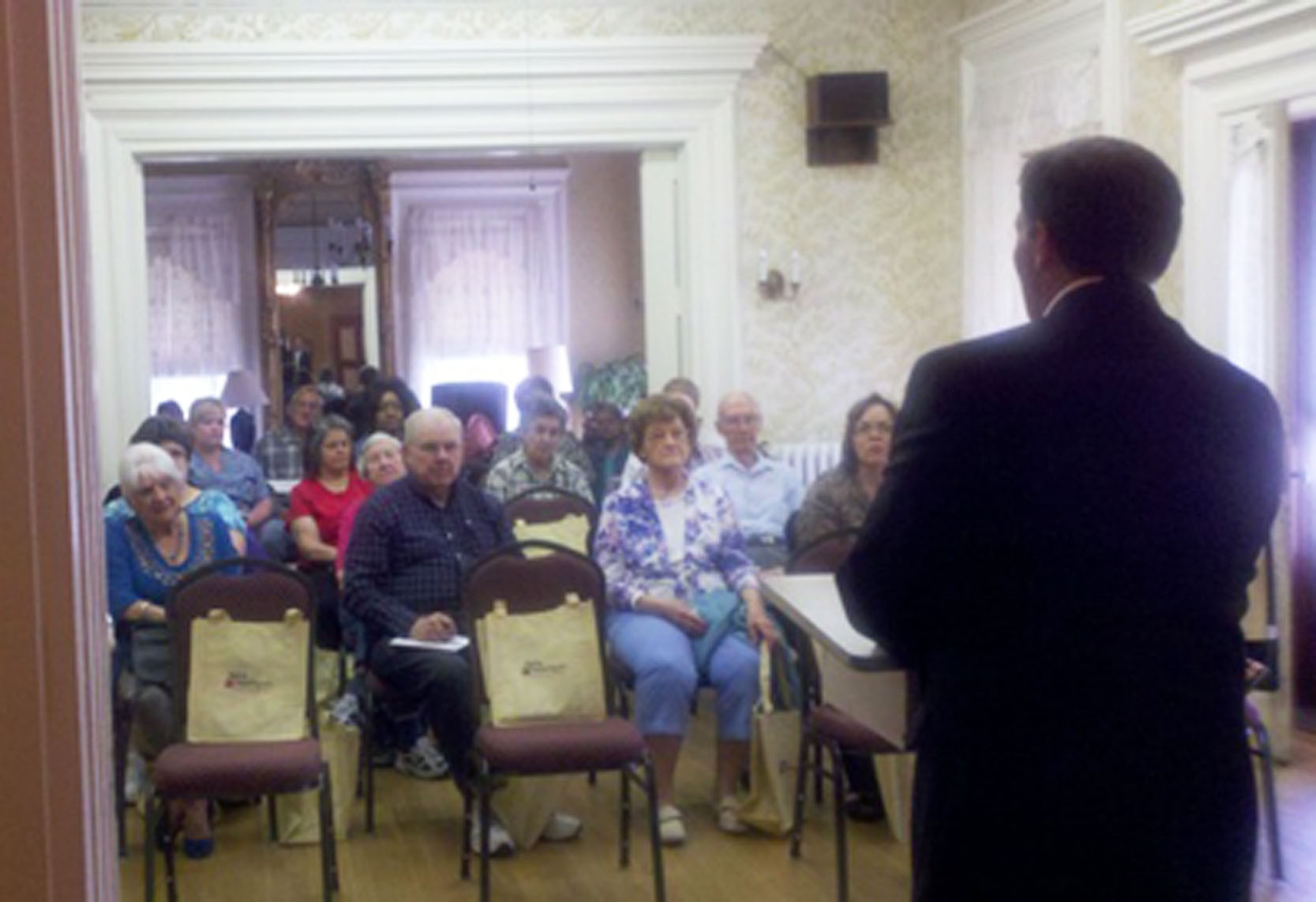 By Jill Nagy
"The friendships people make here are what make the Greater Glens Falls Senior Center a great place. People come because they want to be here," said Rene Clements, executive director of the center for the past 11 years.
For 52 of its 54 years, the center has been housed in the Augustus Sherman House, a historic Victorian home at 380 Glens St. in Glens Falls. At one time it was slated for demolition to make room for a parking lot. Now owned by the First Presbyterian Church it has been listed since 1977 in the National Registry of Historic Places.
Today, the center has 1,400 members, about 900 of them, "active, active," according to Clements.
Its roster of regular activities includes exercise and wellness classes, including chair yoga, Tai Chi, and a program called osteobusters to help seniors maintain bone strength. There is bingo every Tuesday, a golf league every Monday, visits by interns with the Saratoga Opera and area service clubs.
A thrift shop, operated by volunteers, is open every day as well. In the fall one-on-one computer classes will resume, helping seniors learn to communicate with their grandchildren–and each other. The AARP defensive driving course is also offered and, come tax time, there is help available with that as well.
In the summer, "we try to do a lot of outdoor activities," Clements said: picnics, outings, trips to summer theaters, and the like.
Senior Services Specialists Lauren Tompkins is available to help with "any kind of issue." More than 300 people a year avail themselves of her services. The biggest issue, according to Clements, is health insurance. To help meet that need, the center has an annual insurance fair in the fall, when companies are invited to present information about their programs.
But Tompkins deals with many other issues, including housing, rent, problems with hospital bills, and transportation, on a one-on-one basis.
Membership in the center is open to anyone over the age of 55 but Clements estimates the average as closer to 75. "At 55, people are still working," she explained.
Most of the members live in Glens Falls, Queensbury, South Glens Falls, and Hudson Falls. The center serves primarily Warren County and northern Saratoga County but there are no residency requirements.
A $15 per year membership fee is recommended but not required. There are charges for activities only if the person presenting the program charges for his or her services. The center does not provide regular meals. There are, however, monthly fundraising luncheons. Other fundraising activities include a "Duck Race Raffle."
Since getting around without a car can be a problem for many seniors, the center provides transportation to center activities and medical appointments. Their van makes about 2,400 trips a year, with volunteers at the wheel. At times, the van is supplemented by volunteers driving their own automobiles.
Like so many not-for-profits, the senior center depends heavily upon volunteers. Clements said that between 60 and 70 attended a recent volunteer recognition program but, she estimates, there are probably 150 to 200 people helping on a volunteer basis each year.
Clements sees no big changes in the center's immediate future. There will be a continuing emphasis on outreach and bringing in new members.
"Although we have a sizeable membership," she said, "we lose some each year. We try to maintain the numbers."
The center is open from 9 a.m. to 4 p.m. Monday to Thursday. During the summer, the center closes at 3 p.m. on Friday. The telephone number is 793-2189.