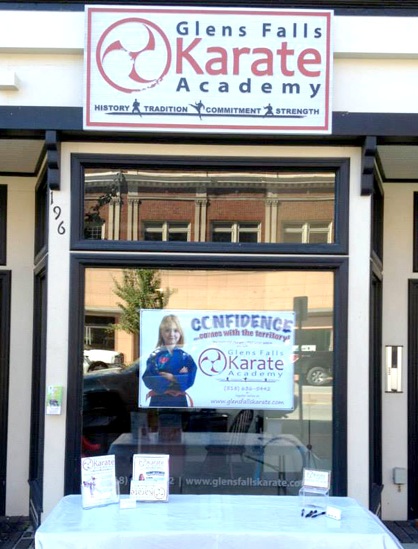 By Barbara Brewer La Mere
Chris Murphy, whose Glens Falls Karate
Academy just opened at 196 Glen St., said
he thinks he was about 6 when his mother
first took him to karate lessons.
In the era when "Teenage Mutant Ninja
Turtles" and "Power Rangers" ruled the TV
networks, it was a dream activity for a kid.
Murphy progressed steadily through the
karate program, earning his first-degree
black belt in 2005 and his second-degree
black belt in 2008. Murphy is soon to receive
his third-degree black belt.
He received his teaching certification
from the Go Shin-Ryu Karate Association.
He taught initially at his teacher's school
downstate and then moved to the local area
in 2008 with the intention of eventually
opening his own karate school. He taught
at the Moreau YMCA until its closure.
At his new studio, which has 2,300 square feet of space, Murphy's students range in age from younger kids (Little Dragons as young as 4) on up to seniors, for whom a low-impact form of karate ("Not quite Tai Chi," Murphy says) is offered.
Classes tend to be fast-paced and highenergy, with elements of a cardio workout. Murphy said there are many health benefits derived from participation in karate programs. Among them are weight control, stress reduction, cardio benefits, and improved concentration. Burning energy and relieving stress can lead to sleep quality improvement.
Greater self-confidence, energy, selfdiscipline, and energy tend to come with karate practice, not to mention the selfdefense capacities inherent in the training, he said.
Murphy said kids and teens experience particular benefits from karate training. The concentration required for the karate moves transfers over into academics. Attitudes of respect that are expected as part of karate training carry over into fewer behavior problems at home and at school.
Murphy includes in his teaching what he calls "mat chats," conversations with his young students that include life-skills lessons. He talks about self control and self discipline and how the students might incorporate those values into their everyday lives.
Though an increasing number of karate schools are said by Murphy to be incorporating these conversations into their curricula, not all karate schools do.
Murphy said continued practice leads to movements being recorded into muscle memory, along with improved balance that carries over onto everyday life.
For optimal benefit, Murphy said a healthy diet is necessary. Karate classes, taken twice a week, still leave room for running, free weights, dance, or other healthy activities.
Murphy said he would like his school to be viewed as a place with a family environment, but not just a kids' school. He said he wants to get involved in various community and charity events.
Glens Falls Karate Academy's website address is www.glensfallskarate.com. The phone number is 636-5442.