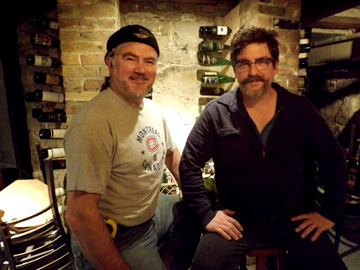 By Barbara Brewer LaMere
Mike Belanger and Paul Parker's Rare Earth
Wine Bar, soon to open at 164 Glen St. in Glens
Falls (site of the former Chocolate Mill), will
have a feel to it that is both cozy and elegant,
the owners say.
"Modern antique," "eclectic," and "1920s"
are all terms that Parker used to describe the
atmosphere. He intends to add "fun" to that
list once the wine bar opens and customers
are sampling from multiple small-plate menu
offerings, matched with recommended wines
from a very selective list.
They hope to open the establishment this
fall.
Additional decor features will include an antique chef's table in the kitchen that has inlaid wood and was imported by Belanger from Italy. A table for guests, newly created with a wrought-iron, grape-themed base, has as its surface the large marble slab that was once the well-known Montcalm Restaurant's baker's table.
The Montcalm's mahogany cooler and back bar appear at Rare Earth Wine Bar as well. An octagon-tiled section of ceramic flooring was recently uncovered. Graceful light fixtures are suspended from a raised design tin ceiling reminiscent of many similar in an older downtown Glens Falls.
Asked for a definition of a wine bar, Parker said, "An establishment whose main focus is on quality vinous production for consumption on premises," combined with "foods that make wine more fun to drink."
He said there a plenty of places to drink beer, but not so many places to drink wine. He said places on the planet where good grapes are grown and good wine made are similarly rare. Thus, the name Rare Earth Wine Bar.
Parker's intent is to feature wines not available in huge bulk quantities. Rather he plans to purchase wines from smaller vineyards all over the world whose particular locations produce grapes whose wine is of exceptional quality.
Customers will not be required to select a wine matched by Rare Earth's owners to a particular menu item, but Parker intends to create dishes with the idea of "framing" and highlighting a specific wine's qualities.
Based on customer response, experimentation, and his years of experience gained in various Saratoga County avatars like Chez Sophie (owned initially by Parker's parents, Joseph and Sophie Parker, and later by Paul himself) Parker may tweak recipes to better enhance a given wine's attributes. When a particular wine is depleted, it will be time to create new menu items to set off the features of the newest wines to be introduced, he said. Parker plans to produce his own pates. Cheese plates will be available. In addition to meat dishes, there will be fish in many varieties.
Parker said he would love to locate a source of fresh sea urchins, a personal favorite. The raw bar will include shrimp, clams, oysters, "Whatever we can get that people will eat." Desserts will be simple, in categories he calls, "chocolate, not chocolate, and fruit." "Not chocolate" may include coffee, caramel, or nuts as featured ingredients.
Belanger comes to Rare Earth by a circuitous route. A native of Peterborough, Ontario, he visited Glens Falls in 1998 and felt very much at home. At the time, he was working for General Electric's nuclear division. Later he switched to the company's small gas turbines division, traveling for G.E. to Italy, South America, and other locations. In 2004, Belanger left G.E. and began to work in vineyard tourism in France. There, he was the producer of wines at Monte Lauro Vineyard. Thus he has a knowledge of wines that is, very literally, from the ground up.
When Rare Earth opens, it will be for dinner only, at least six, and possibly seven, days a week, opening at 4:30 p.m. There may eventually be kitchen seating so that, at times, there will be opportunities to observe what Belanger calls "The Paul Parker Show" as Parker performs his culinary wizardry.
To contact Rare Earth, call 409-8055. A website is under construction, but Rare Earth Wine Bar can be found on Facebook.