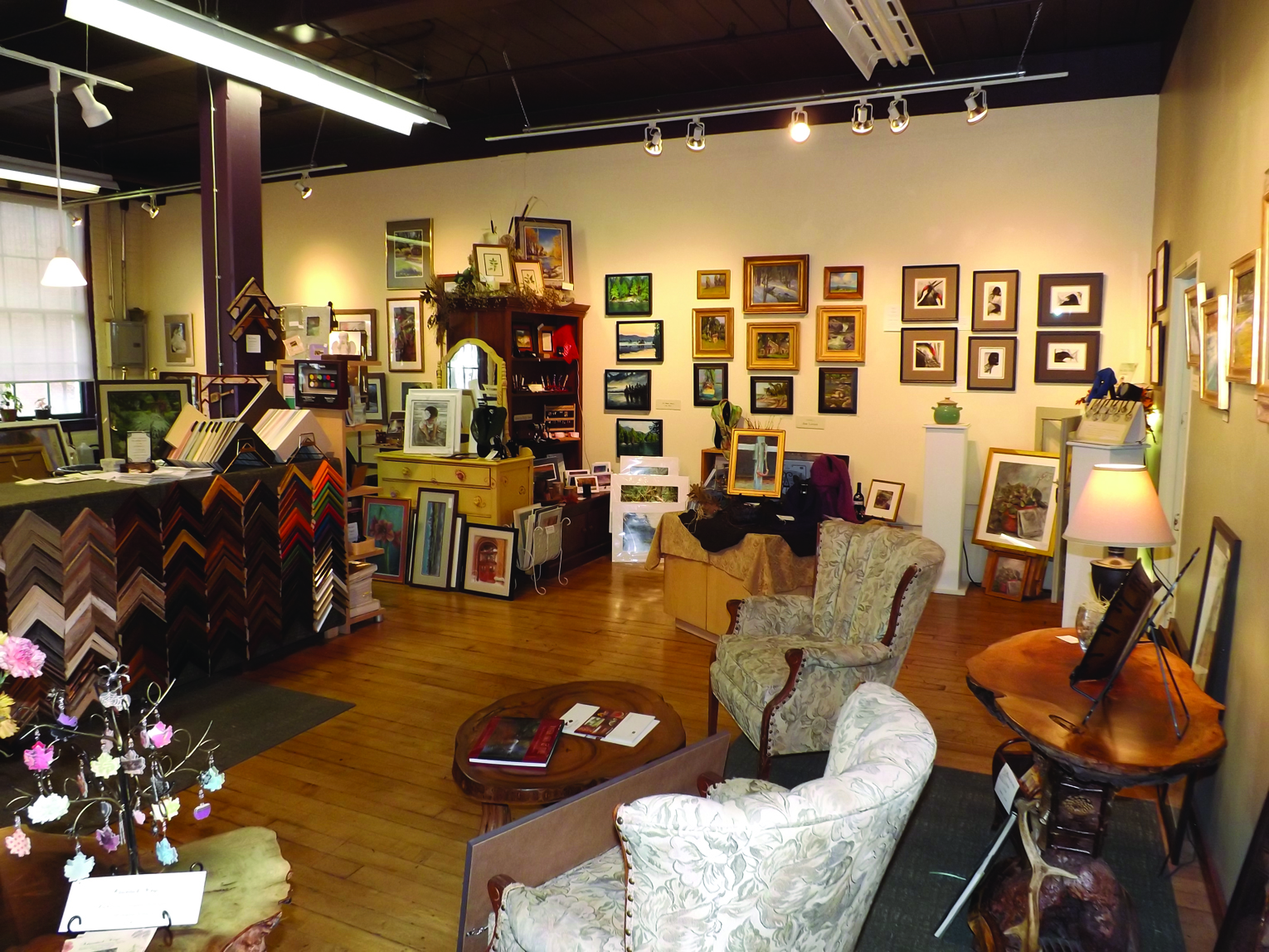 By Lisa Balschunat
Shopping local can help fill a holiday gift box without people enduring the shopping stress and madness that sometimes ensues. People looking for "just the right gift" for employees, family and friends can map out an excursion and be done in good time by shopping around the block.
Over 300 small businesses located throughout the region offer everything from gourmet foods, clothing and toys, to unique dining experiences, spa days or art classes.
Some 50 artists studios, 13 retail shops and 10 galleries are housed in the former McMullen-Leavens Shirt Factory, 71 Lawrence St., Glens Falls.
Inside the old manufacturing structure are working painters, printmakers, pastel artists, fine jewelry makers, potters, textile artists, photographers, sculptors, woodworkers, glass artists, quilters, felters, stone carvers, sculptors, and creators of musical instruments.
Loose leaf tea, herbs, candles, scarves, beads, quilting supplies, soaps, essential oils, baked goods, pottery and glass items are for sale on four floors. Gift cards are available for classes and workshops in drawing, painting, yoga, martial arts, T'ai Chi, pottery, herbal medicine, massage therapy, Reiki, acupuncture, nutrition, skin care, photography, fabric art, felting, metal-smithing, violin repair, framing, stained glass and more.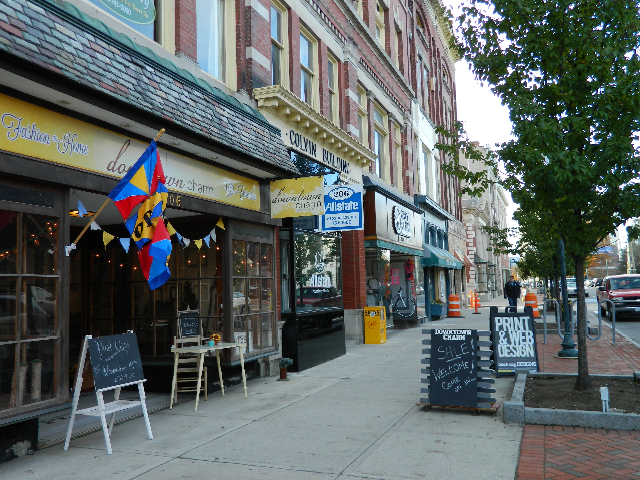 The Shirt Factory's holiday open house, is set for Nov. 29-30 and Dec. 1, 10 a.m. to 5 p.m. A December open house is Dec. 14-15, 10 a.m. to 5 p.m.
The World Awareness Children's Museum's DestiNations Shop is downtown at 89 Warren St., selling toys made from recycled materials, Barefoot books, Patumao World music CDs and calendars, HotLix candies, loose neck animals, Jamtown instruments and more.
The Chapman Historical Museum, 348 Glen St., carries Seneca Ray Stoddard books, maps and prints, as well as Max & Mazie fabric dolls, Adirondack Chandler candles, Doris O'Connor hand-painted wine glasses, Sweet Pea Farms maple syrup, Maple Land Farm candies and American Girl items.
The Hyde Collection Museum Store, 161 Warren St., offers reproductions, art books and exhibition catalogues, and cards that relate to the museum's mission, permanent collection, historic house or special exhibitions.
As a tradition, the Lower Adirondack Regional Arts Council (LARAC) Lapham Gallery, 7 Lapham Place, transforms its gallery space into the LARAC Holiday Shop from Nov. 15 to Dec. 23. The festive showcase includes artworks, books, clothing, textiles, jewelry, prints, note cards and photography.
Sterling & Company offers distinctive gifts, home furnishings, fine jewelry and gourmet kitchen items. Grey Ghost Bicycles carries Cannondale, K.bedford, Guru and Giant Bicycles. The Fox & the Chicken Coop repurposes everyday garage sale and antique wares into functional decor, and offers classes as well. Achenbach's Jewelers features diamond jewelry, wedding bands, Movado and ESQ watches, and custom design-pieces, and Scarpa Designs shoe boutique.
Laura's Vintage Clothing racks are filled with ready to wear vintage hats, dresses, gloves, scarves and accessories from decades gone by. Fountain Square Outfitters carries Patagonia, Outdoor Research, Zamberlan, Hydro Flask, GSI, Eagles Nest Outfitters for the serious and recreational outdoor enthusiasts. Downtown Charm is a vintage-inspired shop with home decor, kitchen items, jewelry, handbags, soaps and more, and offers Chocolate, Wine and Paint techniques classes to repurpose furniture and small home decor items.
Milk and Honey touts couture clothing, home accessories, a mix of country and contemporary items for all ages. Poor Richard's Antiques offers two floors of nostalgic furniture, glassware, books, coins, jewelry, military items and more. Scoville Jewelers carries opals, pearls, precious gemstones set in fine gold, platinum or sterling silver, Forevermark and Hearts of Fire diamonds, Vera Bradley handbag and accessories, leather handbags, and wool and silk scarves.
In South Glens Falls, Adirondack Whole Foods, 63 Main St., is stocked with gourmet oils, gluten-free items, fresh local and organic foods from area farms, raw local honey, Barkeaters chocolates, Adirondack Mountain mushrooms and a new line of Salem's own Pure-N-Soap goat's milk soap. Nearby, shoppers can pick up gift cards at Cinematheque Theatre, Cirelli's Osteria, Wakin' Bacon, Massie's Restaurant and Sorrentino's Deli and Market, or stop by M. Rahal Jewelers for BON Shamballa bracelets, the Pandora collection, gems, diamonds and more.
In Hudson Falls, The Village Booksmith, Tops Furniture, Ure Hometown Bakery and Sandwich Shoppe, Sutherland's PetWorks, Main Moon, Parkside Flowers, Hudson River Music Hall and Maxwell's Pub are easily accessible again. Stop by to purchase gifts, cards and tickets to place under your holiday tree.
In Fort Ann, Kingsbury and Washington County, shoppers can travel the 23rd annual Christmas in the Country studio tour Dec. 5-8, from 10 a.m. to 5 p.m. where 15 artisans open their homes and studios to share their passion and wares. Shoppers will find pottery, embroidery, photography, woodworks, floral designs, seasonings, spices and herbs, cheeses, wines, paintings and other fine crafts that are perfect for holiday gifts.
Farm fresh produce, meat, eggs, fish, cheese and numerous other locally grown and crafted products are available each Saturday morning in the fall and winter at the Glens Falls Farmer's Market, South Street Pavilion, until Nov. 23; and at Christ Church United Methodist, 54 Bay St., after Nov. 30. Bring the gift of fresh food to the holiday table this season. Farmer's Market gift tokens are also available.
Pure-N-Simple Natural Foods, 4 East Washington St., Glens Falls, is a great source for natural, organic, vegetarian and vegan products and food.
Glens Falls Food Co-Op, Route 9, Diamond Plaza, Gansevoort, is stocked with items to create a delicious medley of gifts. The food cooperative, now in its second year, is open to the shopping public and is stocked with flour, sugar, spices, baking ingredients, honey, nuts, beans, grains, locally grown vegetables, locally-raised pork, beef and chicken, eggs and cheeses — all at reasonable prices because of the cooperative purchasing power of its more than 200 members.
Gift memberships abound at the Family Y, Core, Ray of Light, Rocksport Indoor Climbing Center, West Mountain ski passes, Adirondack Sports Complex gift cards, Adirondack Phantom hockey tickets, Glens Falls Civic Center and Hudson River Music Hall concert tickets and Charles R. Wood Theater show tickets, to name a few.
Establishments like Rockhill Bakehouse Cafe, Thai Siam Sushi Restaurant, Gourmet Cafe, Bistro Tallulah's, Luisa's Restaurant, Davidson Brothers, Jack's Bistro, Cooper's Cave Pub, North Country Coffee Cafe, Bistro Leroux, Samantha's Cafe and Coffee Planet are serving up gift certificates, as well as newer eateries like The Vagabond, Thai Sushi Aroy Dee, Rue 46 Cafe & Bakery, Hometown Smoothies & Eatery, Celia's Table and DownTown City Tavern.