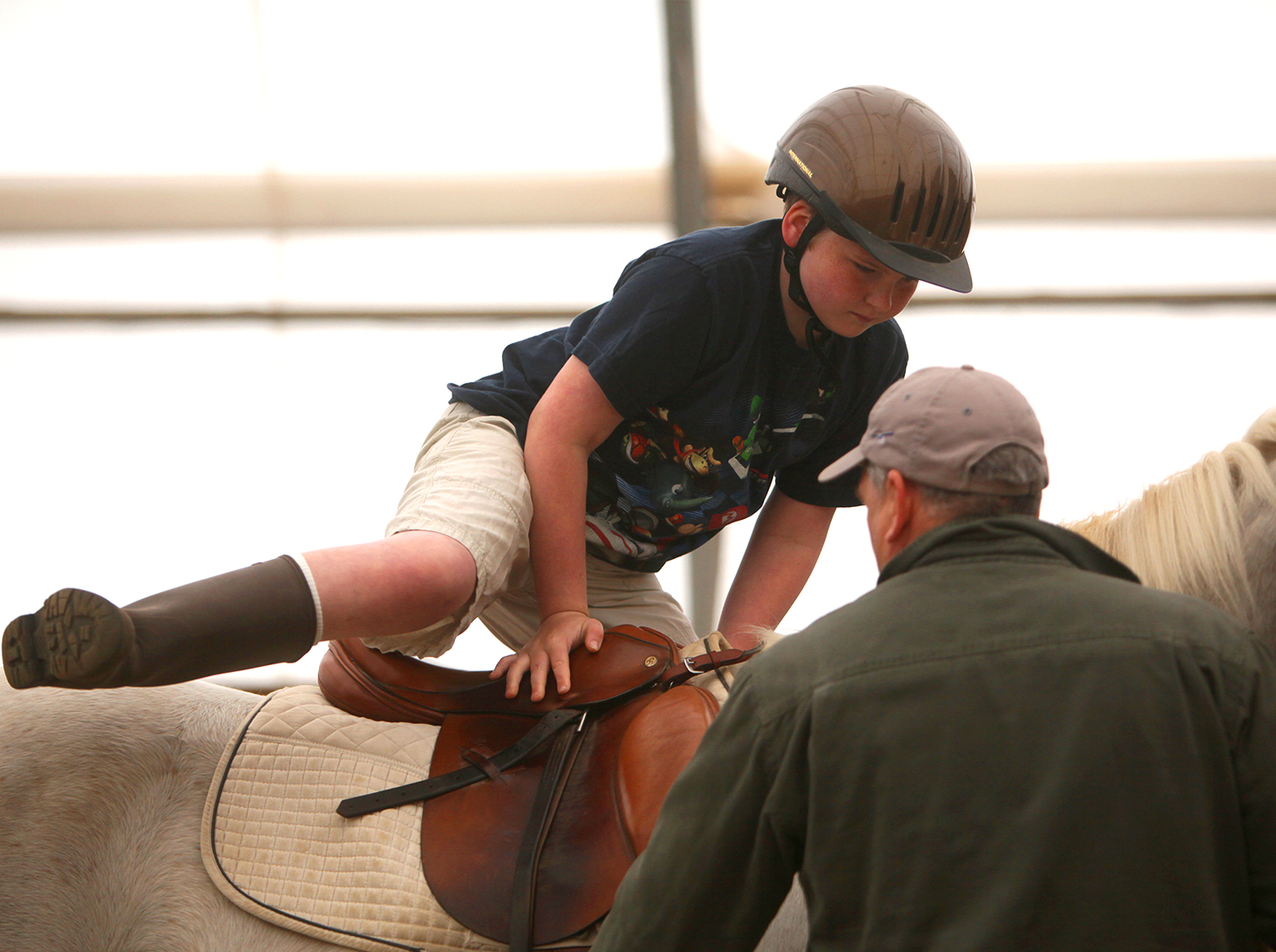 By Liz Witbeck
Horses have a long history in the local economy, but for a few children who attend Nipper Knolls Therapeutic Riding Program, this is not just about learning to ride. It is about getting healthy, and building physical skills and self-esteem.
Nipper Knolls Therapeutic Riding Program helps children with a variety of special needs strive toward goals by offering therapeutic horse riding lessons. Many of the children in the program are on the autism spectrum. Other children have anxiety, ADHD, or physical disabilities.
Cathy Lamando operates the program and serves as the instructor. She has worked as a physical therapist her entire life, and saw this as a way to blend physical therapy with her love of horses. She is a PATH certified therapeutic riding instructor, and maintains membership with PATH International and the American Hippotherapy Association with Level 2 therapist completion.
"They are learning self-esteem, socialization, strength, core balance. It's a great balance of social skills and physical skills" said Lamando of her clients.
There are two programs offered at Nipper Knolls: therapeutic riding and hippotherapy. Therapeutic riding is a social model that uses horse riding for the purposes of achieving cognitive, physical, emotional and social well-being in children with special needs. During a lesson, students will learn to brush a horse, safety rules, tacking, leading, riding and more.
Hippotherapy is a physical, occupational or speech therapy that utilizes horses to mimic the natural movements of the human body. It is used as part of an integrated treatment program to achieve a desired goal for children.
Classes are small, with only two students in each therapeutic riding lesson, she said. Hippotherapy classes are one-on-one. Lamando oversees the classes, and there are side walkers to accompany each child on the horse. The program is always looking for volunteers.
While some children might experience hesitation at other activities, several children have found their calling at Nipper Knolls, according to Lamando.
"One parent said their son couldn't play soccer or basketball because it's too much activity" she said. "But with the horses, he comes here and he's turning into an independent little rider. For him this is his sport."
Nipper Knolls operates out of North Country Horses riding program in Gansevoort. Previously Nipper Knolls also had programs out of Burchland Country Experience in Hartford, Washington County, but the owners are selling the property.
There are five horses used in the program. They are specially trained to be used in the therapeutic riding program. Horses learn to be around physical therapy items like rings and balls, to not fear noises, and to be calm around the touch of children. North Country Horses donates some horses for the program. Others are leased.
Nipper Knolls riding lessons are private pay. Therapeutic riding lessons are one hour long and $40 per lesson. Hippotherapy lessons are 30 minutes long and $50 per lesson. Some people might be able to have their insurance provider reimburse them for the hippotherapy lessons.
Lamando said there is a special bond between the child and the horse. From learning to ride, to the basics of grooming a horse and cleaning a stall, Nipper Knolls provides children with confidence, gross and fine motor skills, social activity, and fun.
"It's so rewarding. The children love it, the volunteers love it, the horses love it," said Lamando.
Any parent with a child with special needs should consider Nipper Knolls Therapeutic Riding Program as part of an overall therapy program for their child, she said. For more information, visit the website nipperknolls.com.
Photo Courtesy Nipper Knolls