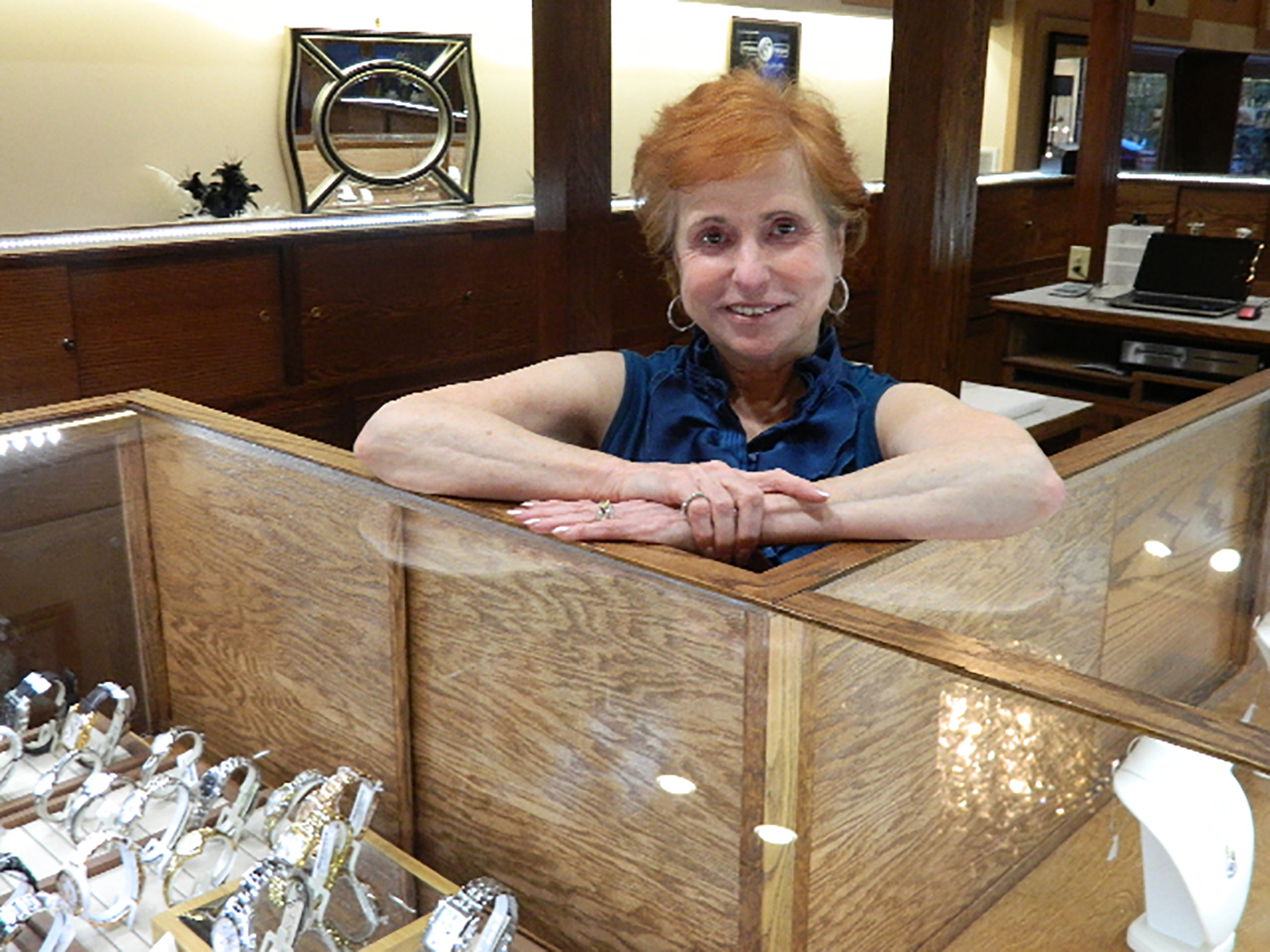 BY LISA BALSCHUNAT
At a young age Judy Pontiff knew she wanted
to be financially independent. It didn't sit right
with her that she had to ask her parents for
money and had to tell them what she was going
to buy with it before she received it.
"I didn't like that concept," said the owner
of Achenbach's Jewelers in Glens Falls. It was
then that her budding entrepreneurial efforts
began.
Pontiff moved from Maine to Glens Falls in
1971, already a 20-something real estate owner
and proprietor. Over the past four decades,
she had owned and managed numerous rental
properties, both commercial and residential.
Pontiff presently owns 12 properties in addition
to managing her retail space at 220 Glen
St., which includes the jewelry store that dates
back to 1892; a high-end shoe store, Scarpa
Designs, on the lower level of the building, and
three office rentals on the upper floor.
Her workdays are long, but extremely satisfying.
"I wouldn't want to be doing anything
else," she said, "but when I do leave the office,
I enjoy my life, and I leave the work behind –
until the next day."
Her recommendation to young entrepreneurs
is "to be very inventive … start out small.
Then see how you want to expand on it. Your
thinking can change any way, shape or direction.
Don't dwell on missteps. Move on."
Pontiff also suggests reading as much as as possible about the endeavor. "Take bits and
piece [of advice] from the experts to fit your
business, your location to help you grow," she
said.
When Pontiff purchased Achenbach's in 2004
it needed dramatic upgrading, both in inventory
and interior design. Pontiff changed out jewelry lines, updated the look, resurfaced the roof,
replaced an old massive furnace, renovated
office space upstairs and began renting to three
tenants. She completed the projects without
loans or investors, but with her own capital,
elbow grease and by making solid business
decisions based on research.
Following industry trends and understanding
the customer desires in downtown Glens
Falls, Pontiff opened Scarpa Designs in the
lower level of Achenbach's. The space features
men's shoes, hats and gloves; women's shoes,
handbags, gloves, and in the near future will be
expanding with men's ties and suits, women's
fashions and high-end children's clothing.
She is planning to re-open Scarpa Designs on
Nov. 1, provided that the new staircase, carpeting
and display cases are installed as scheduled.
In June 2013, Pontiff's building suffered
water damage from the fire that broke out at
the neighboring building on the third floor of
the Bullpen Tavern.
"We were closed for two and a half weeks as
a result, but when we reopened many people
thought we were still closed because our back
door, which is attached to the Elm Street parking
lot, is really our front door, and dumpsters
had to be there to remove the debris," she said.
"Neither the owners of the Bullpen or I would
ever want anyone to go through what we did.
It took a lot of endurance for both businesses,
and for the tenants in both buildings, but we all managed and have moved forward."
Pontiff said one of her tenants is waiting
move back in, while two others had to find
other offices to rent. Once the upper floor is
fully repaired and ready for occupancy, Pontiff
will have two office spaces to rent.
Since the fire, "we're growing new customers,
sales are up, we're looking forward to the
holiday shopping season and downtown events
like Hometown Holidays on Friday, Dec. 5, and
Achenbach's second annual restyling event on
Friday, Nov. 21."
In the coming year, Pontiff said Achenbach's
Bench Tooler Joanne Agopovich, will
begin working with three-dimensional jewelry
software to provide customers with on-screen
custom designs, but she will also continue to
"wax out" pieces for customs depending on the
intricacy.
In addition to Agopovich, Achenbach's
employs two fulltime sales people. "We pride
ourselves exceptional service," she said, "and
we have have a personal relationship with our
customers. They are happy and my employees
are happy."
Achenbach's opens daily at 9 a.m., Monday
through Saturday, and in December will be
open from noon to 4 p.m. on Sunday. Scarpa
hours will be similar when its reopens. For more
details go to: www.achenbach's jewelers.com,
call 792-3425 or find the company on facebook
and twitter.
Photo by Lisa Balschunat