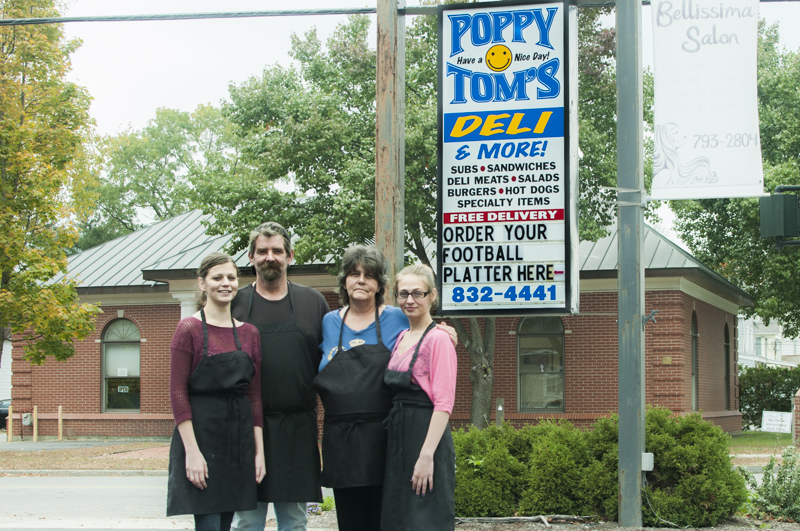 BY SUSAN E. CAMPBELL
A long-time delicatessen worker, Nancy
Timlick, and her fiance, career chef Tom
Nielson, have entered a business partnership
along with Timlick's two daughters,
Cathleen and Maria, and opened Poppy
Tom's Deli & More at 148 Bay St. in Glens
Falls.
"I worked in delis for 30 years and
thought it's about time we started one of
our own," said Timlick.
Chef Tom, or "Poppy Tom" to Timlick's
grandchildren, has been a chef locally for
Sandy's Smokehouse, Bavarian Chalet, and
a number of Florida eateries. According to
Timlick, Nielson has much experience preparing
everything on Poppy Tom's inventive
menu, except pizza.
"He's working on throwing pizza dough,
but he's getting the hang of it," she said.
And he's offering some creative toppings
that are getting kudos from customers, like
taco pizza and chili French-fried cheese
pizza.
The deli also offers fresh pastries and
desserts. Chef Tom fills the turnovers daily
on site.
None of the family is native to Glens
Falls, but Timlick is enjoying being in the
heart of the city.
When the space at Bay Street opened up
for lease, she said everything came together
very well. It already had a kitchen and most
of the equipment that a restaurant would
require.
"We have an outstanding rapport with the owners," said Timlick. "All the equipment
was pressure washed for us, and we only
needed to do a facelift with brightly colored
paints and some minor updating, such as
the seals around the equipment."
For those whose taste buds find chocolate-
covered bacon appealing, it's on the
menu at Poppy Tom's. Timlick said there
is no place in the immediate area that she
knows of selling it.
The challenges of starting a new restaurant
have been few, excepting financing.
Timlick said she was turned down again
and again for a loan by conventional institutions.
But she located investment and
in so doing elevated her "trust and belief
in people."
As soon as she is able, Timlick wants to
accept SNAP cards at Poppy Tom's to enable
the community to get some food staples there,
such as milk, fruit, cheese, bread, chips and
more.
"There are many elderly and disabled
people in the area that we want to serve,"
said Timlick. "When we are able, we will buy
another cooler to expand our stock of those
items."
Timlick said she and her partners understand
they won't be able to pay themselves for
a while. But they have a mission and a dream
to fulfill, she said.
Poppy Tom's Deli and More is open daily except
Tuesdays from 10 a.m. to 8 p.m., Fridays
and Saturdays until 10 p.m. There is a small
eat-in area–two tables and six chairs–and
take-out or delivery. Call 832-4411.
Photo courtesy of Jake Van Ness