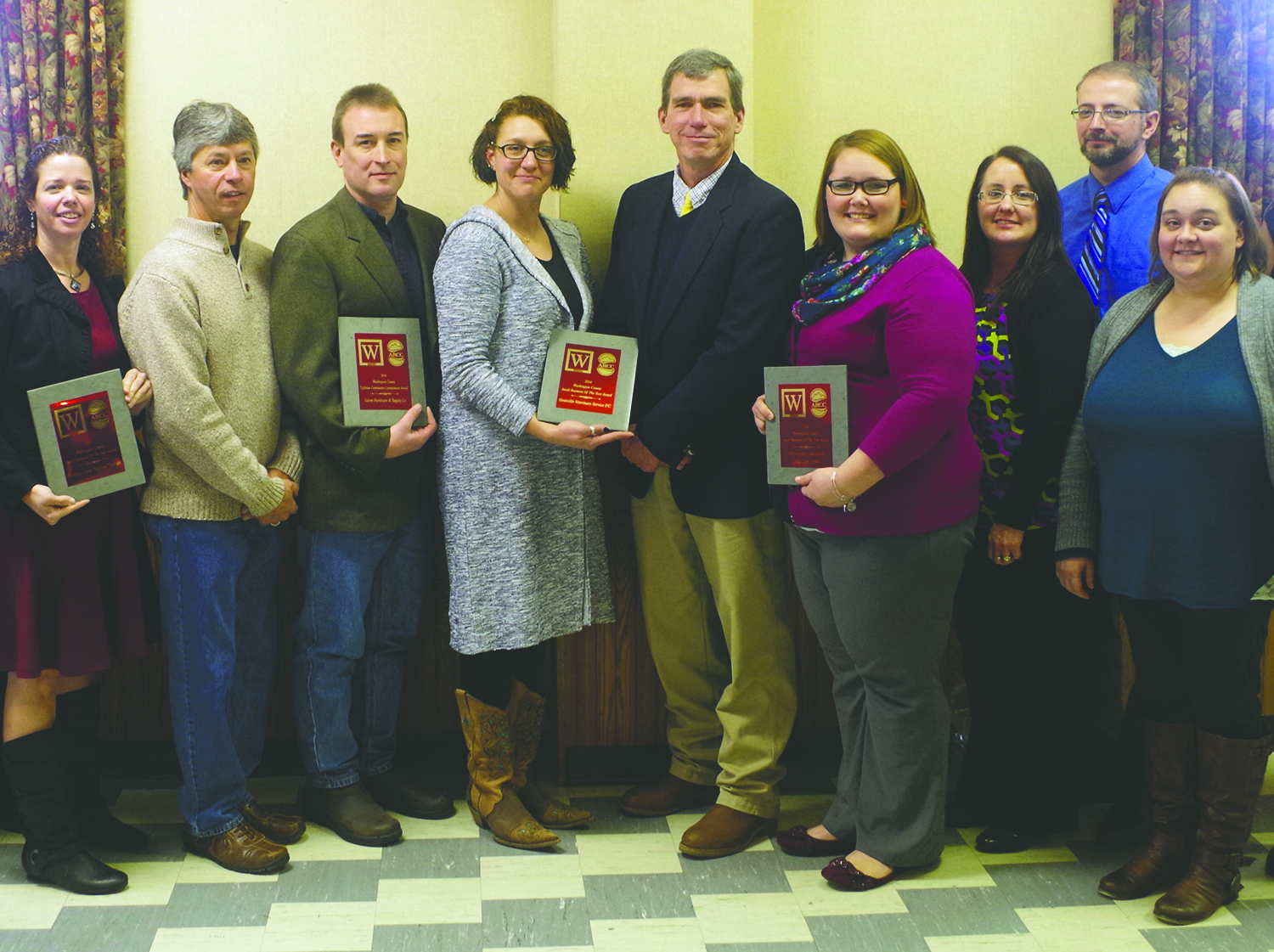 Three companies were recognized by the
Washington County Local Development Corp.
and the Adirondack Regional Chamber of Commerce
with Small Business of the Year Awards.
The ceremony took place on Dec. 12 at The
Kingsbury Fire Department in Hudson Falls to
honor the winners and to celebrate all of the
businesses nominated this year.
The 2014 Winners honored are Granville
Veterinary Service PC in Granville; Harrington's
Care A Lot Child Care Center in Hudson
Falls and Helping Hands Physical Therapy in
Greenwich. In addition, a Lifetime Community Commitment
Award was given to Salem Hardware &
Supply Co. in Salem.
The 2014 nominees recognized at the event
were Argyle Brewing Company LLC in Greenwich;
Chippewa Stone in Whitehall; Cormie Insurance
Agency in Hudson Falls; Country Gals
Café in Cambridge; Country Peddler Shoppes
Inc. in Greenwich; the Flower Shop @ Laura's
Garden in Salem, and Kelly's Emerald Feeds,
LLC in Kingsbury.
Granville Veterinary Service works with New
York and Vermont equine and livestock owners
for both routine and emergency care needs. The
clinic offers care provided by four licensed and
experienced veterinarians and assistance from
three office staff. The owners, Dr. Sarah Jensen and Dr. John McDermott, accepted the award.
Harrington's Care A Lot Child Care Center
works with infants, toddlers and children 3-5
years, providing a structured schedule of care
and activities, where age appropriate. They
also provide before-school and after-school
care for school-age children. Kendra, Lisa
and Bill Harrington and Kim Hunt accepted
the award.
Helping Hands Physical Therapy strives to
provide a whole body approach to rehabilitation.
Through manual techniques and comprehensive
exercises, the staff utilizes time with
patients to ensure optimal outcomes. Barb
Hamel accepted the award.
Salem Hardware & Supply Co. at 200 Main
St. in Salem is a TruValue affiliate that provides
a full range of supplies including electrical
and plumbing supplies, appliances, hand and
power tools, outdoor patio furniture, painting
supplies and much more. Owners Dave Linendoll
and Kyle Hunter accepted the award.
Platinum level sponsors for the event were
Adirondack Technical Solutions and Glens
Falls National Bank & Trust Co. Silver level
sponsors were Currin Compliance Services;
Fort Hudson Health Systems and Robinson &
Son. Items were donated to awards event by
Adirondack Broadcasting, Adirondack Flower
and Nims Services.
Photo Courtesy Washington County LDC