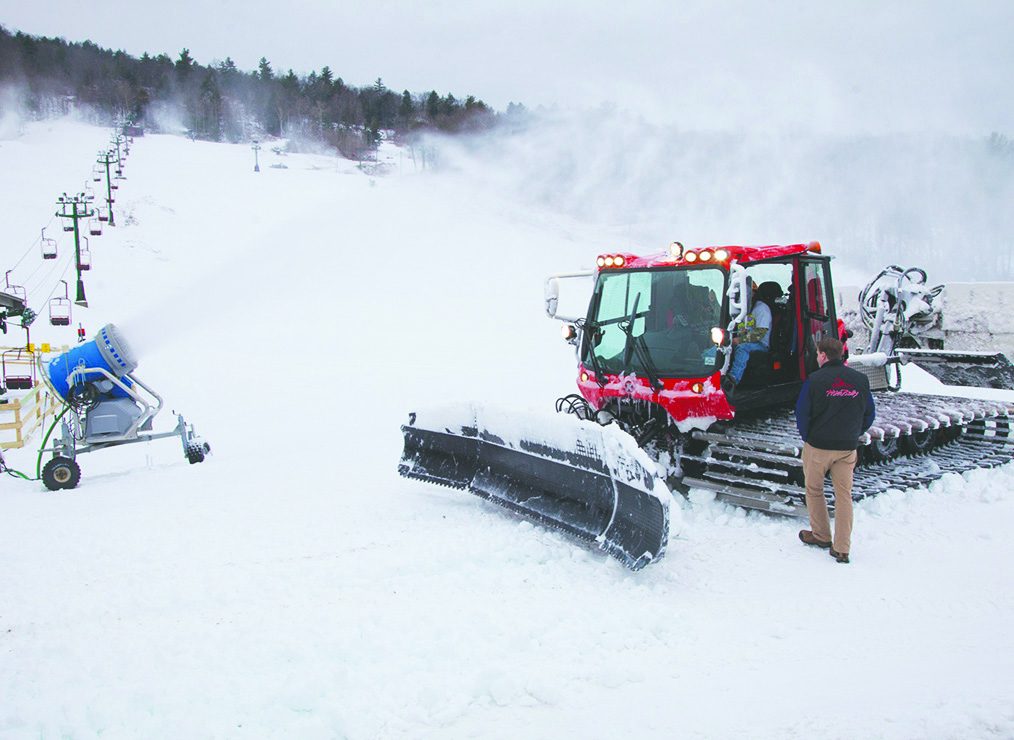 BY LIZ WITBECK
It is December and that means ski
centers are opening for the season. West
Mountain opened. Spencer Montgomery,
one of the partners in Apex Capital, which
owns the facility, as well as on-site manager
of the ski center, said he was determined to
open the mountain earlier than many other
ski sites in the area.
He opened Nov. 30.
The 2013-14 winter was the first season under his management.
"It was a good season, no complaints. We
had a decent turnout," said Montgomery.
The center broke even financially, which
was a positive sign.
Moving forward, Montgomery and his
team have created a vision for West Mountain.
"We are really trying to rebrand it as a
family mountain," he said.
Last year saw increases in both season
pass sales and student classes, Montgomery
noted. Season pass sales were up by about 20
percent. The number of students participating
in after-school ski programs increased
from 900 to approximately 1,400.
To get West Mountain ready for the season,
a total of 5,000 feet of pipeline was
installed to help facilitate snowmaking.
This triples the capacity of the previous
pipeline, allowing for more snow to be delivered
faster, said Montgomery.
West Mountain hired Andrew Van Bourgodien
as the new food and beverage director.
Van Bourgodien oversees operations at
the East Slope Bar and Eatery. The menu
features traditional pub fare, such as hamburgers
and buffalo wings, along with some
more refined dishes such as lobster rolls,
New York strip steak, and vegetable Napoleon.
During the off-season, Van Bourgodien
operates Up River Café in Lake Luzerne.
East Slope Bar and Eatery books holiday
parties and more. It's open 11 a.m. to 9 p.m.
Montgomery had many plans for West
Mountain when he first stepped into the
new role. He previously considered adding
a zip line at the ski center, in order to
draw crowds during the summer and raise
revenue. But Montgomery has slowed down
his expansion plans.
"Yes, it's something that in the future we'd possibility like to do," said Montgomery of
the zip line. "Our focus is really on building
a ski center."
"By continuing to focus on customer
service and a family friendly model, making
improvements to the mountain, and bringing
in highly qualified staff, Montgomery
believes West Mountain is positioning itself
to be a ski center that families will enjoy
coming to for years to come.
David Wenn was hired to run and coach
the ski racing program at West Mountain.
Wenn is a level 300 USSA-certified ski
coach. He is the woman's U16 alpine ski
racing coach for the Vail Ski and Snowboard
Club in Colorado, and founder of the National
Sports Academy in Lake Placid. Wenn
has many plans to make West Mountain
Racing successful.
The ski center will host 12 races this year,
including two college races and a Super G
camp. Questions about the racing team can
be directed to Wenn at dwenn@westmtracing.
com or 524-6484.
Operating hours are Monday and Tuesday
3 p.m. to 9 p.m.; Wednesday through
Friday, 10 a.m. to 9 p.m.; Saturday, 8:30 a.m.
to 9 p.m.; and Sunday, 8:30 a.m. to 4:30 p.m.
Holiday weekday hours are 8:30 a.m. to 9
p.m. The phone number is 636-3699.
For more information, about West Mountain,
visit www.westmtn.net.
Photo by Todd Bissonette Photography