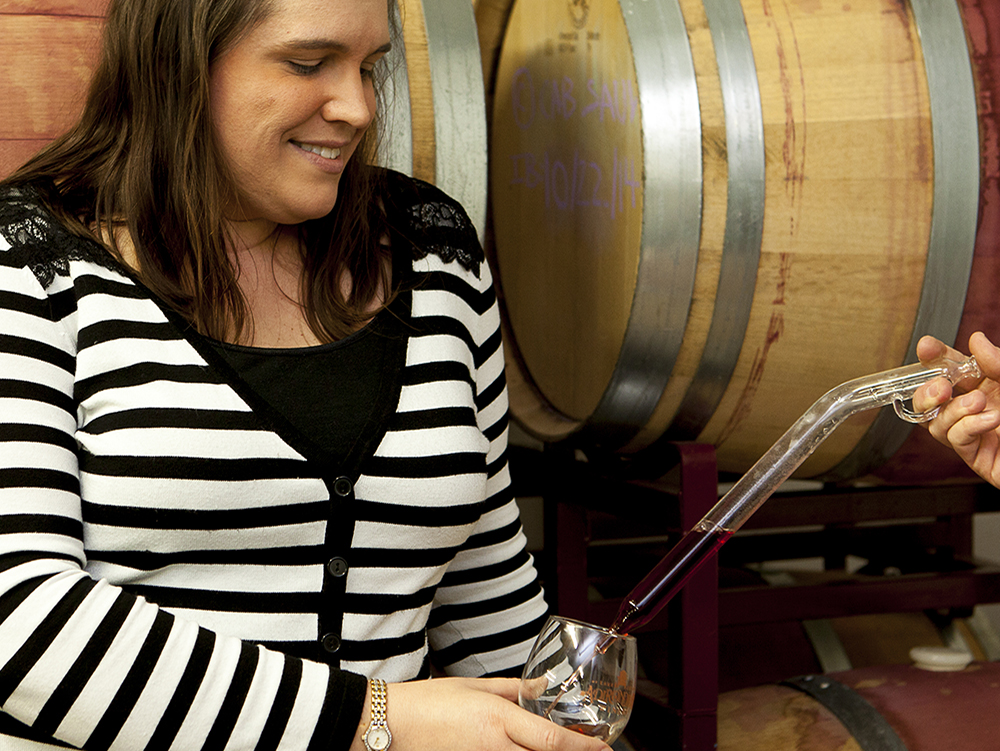 BY KAT FITZPATRICK
Ultimately Sasha Pardy means business. She
and her husband of 15 years, Mike Pardy, own
and operate the Adirondack Winery in Lake
George, which now has a production facility in
Queensbury.
They were strategic from the get-go. Before setting
out to develop one of the top-ranking wineries
in the state, they had their eyes on success. Right
out of college they loaded everything they owned
into a small Honda civic and headed to Florida.
"We lived in my grandma's trailer until we could
get jobs," Sasha said. "Florida was booming then
and we knew it was a great place to launch our
careers."
Her business management degree with a focus
in marketing helped her quickly land a job doing
marketing and marketing research for shopping
centers in the real estate sector.
Generally, no one associates Florida with wine,
but the Pardys did find a couple of wineries in the
Sunshine State that had vineyards nearby.
"We saw wineries popping up in shopping
centers and we began to look into how they could
be doing that," she said. "And we realized that
we could get grapes and do that, too. Mike is an engineer and he likes to figure things out … We
always wanted to have our own business but didn't
know if we'd get there."
Her husband was already making wine at
home. The desire to start their own business continued
to ferment, literally right under their noses.
"We had no basement there in Florida so our
whole house smelled like a winery," said Pardy.
They decided to relocate back home with their
two-year old daughter, Ella.
"We were lucky that when we decided to move
back north (in 2007) that the housing market was
great down there, so we made a good buck on our
house," she said.
Once settled back Upstate, she found the perfect
job to balance home, work and family–and
business planning.
"I was able to get a job from home in journalism
and real estate." Very quickly they were putting
together the groundwork for the winery. The
storefront in Lake George opened in 2008.
Sasha was able to work her full-time telecommuting
job and assisted in marketing and
managing their budding business until March of
2011, just three months before their second child,
Ethan, was born.
She then left her "day job" and joined her
husband full time. The small venture they began
has flourished over the past seven years. They
currently employ 15-20 people, seven of which
are full time.
"For the longest time my assistant used to work
out of my house," Pardy said. Now she oversees
staff working behind the scenes at the new production
facility in Queensbury.
"It's super important that you have talented
staff," she said. "We keep growing, little by little,"
She and her husband work very closely together.
"But we both have our own wheelhouses," she
said, "We have to or it wouldn't work. I'm literally
with him 24/7. We have to split our duties or we
will go crazy."
She undertakes the PR, marketing, graphic
arts, and retail areas, while he oversees the financial,
production, legal and payroll responsibilities.
Both watch over the Lake George tasting room.
"We're very different people," she said. "He
comes in with marketing ideas which are sometimes
good and I go to him with my ideas: I want
more money or I say something about the wine.
We have to hash it out. We have to or nothing
gets done."
Getting things done is often a challenge.
"Sometimes I'm up 'til midnight and on the
computer at home after (the kids) are in bed
because I left work early for one of their activities.
You don't want to miss out on more than you have
to. Vacations are a must. Mike and I do one alone
and we do one a year as a family ."
In addition to running the tasting room and
producing wine, the Pardys also host several
events each year including their annual anniversary
event (April 11) and the new Adirondack
Wine and Food Festival (June 27-28). The also
participate regularly in charity fundraisers, even
creating special wines and labels just for specific
non-profits.
Pardy also serves on several boards including
the Adirondack Ballet Theater and the Lake
George Chamber of Commerce. She is also a clarinet
player in the Lake George Community Band.
"We have big dreams of expanding," she said.
"But all that would take more work. I'm a very
ambitious person and I see that and I want to get
there and I have to pull back and say if we do that
it will add so much more stress."
In addition to this discernment, great staff,
a good working relationship with her husband,
her other secret to success is a healthy grasp of
her own aptitudes. "I've just developed my skills
over the years. I'm fast. I don't have to farm
things out. I'm good at graphics, I know how
to write, how to make Web pages and I know
how retail works. It saves time to do it myself.
I know what I know well, and it feels like that
makes things possible."
Photo by Todd Bissonette Photography