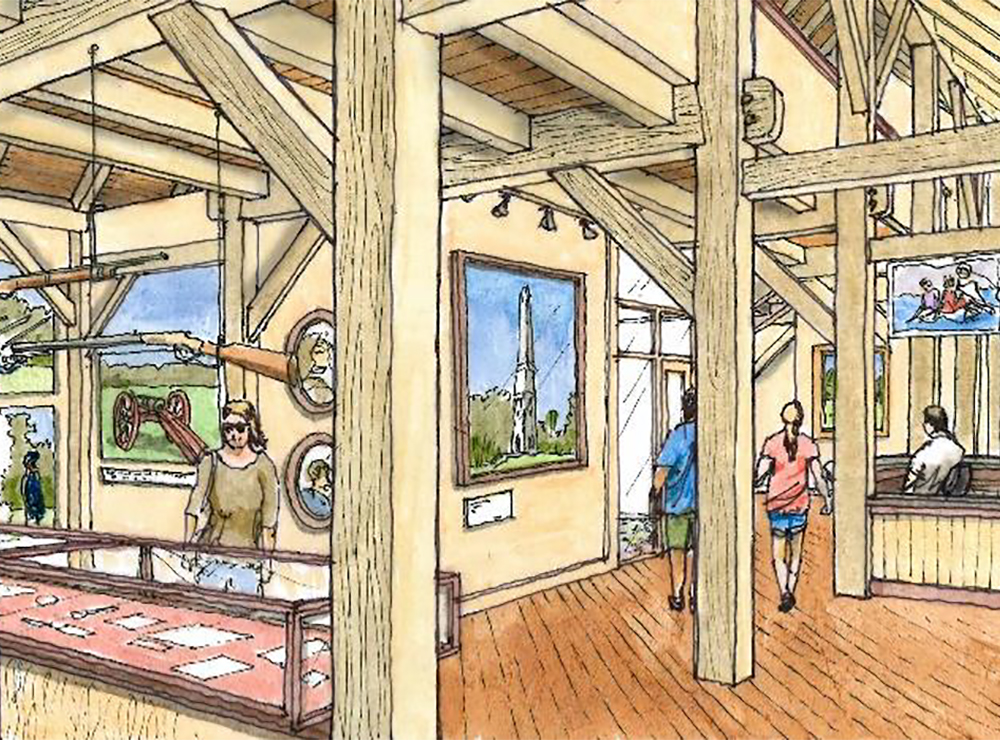 The Timber Framers Guild will conduct a 10-day community building project in Schuylerville, raising the frame for the Champlain Canal Region Gateway Visitors' Center Sept. 5-15.
The site is adjacent to the old Champlain Canal and is being used as a gateway to inform visitors of other historic locations in the area.
Timber framers, engineers, designers, and homeowners will also congregate in Saratoga Springs after the community building event for the Timber Framers Guild's 31st annual conference Sept. 16-18 at the Gideon Putnam Hotel, 24 Gideon Putnam Road, Saratoga Springs.
The first level will be built by TFG instructors and volunteers Aug. 8-12. From Sept. 5-15, instructors will work with more than 50 students and volunteers to process approximately 24,000 board feet of locally sourced white pine and red oak timbers to form and raise the structure.
Timber Framers Guild Project Manager Neil Godden, in collaboration with the architects of Saratoga Associates, and TFG member Mike Beganyi have added characteristics of the Dutch barn frames native to the area to the design.
"The timber frame is a modern take on a traditional Dutch style barn that was common in the Hudson Valley," said Beganyi.
Large anchor beams with thru tenons and celebrated joinery will tie the frame of locally harvested pine and hardwoods together.
A community hand raising of the Gateway Community Visitor's Center frame will take place on Sept. 14 and 15.
"A hand raising such as the one we'll conduct to conclude this event is something the community and the participants will remember for the rest of their lives," said guild Executive Director Jeff Arvin.
Since 1988, the Timber Framers Guild has collaborated with communities to create over 75 timber frame structures. Throughout that time, they've worked in the U.S., Canada, Suriname and Poland and have built timber frames for bridges, market pavilions, picnic shelters, park structures and house frames for a Habitat for Humanity affiliate.
The guild's experience with projects and workshops began modestly in 1989, the organization's third year, with a pair of frame design workshops in Massachusetts. Plans were made to realize a daring project to raise two house frames, and moreover, to cut pieces for the frames at shops all over the world. Once completed, the timbers were brought together in Hannover, Pennsylvania where some four hundred timber framers assembled and raised the two frames. The sites were turned over to Habitat for Humanity and completed in collaboration.
The conference at the Gideon Putnam "will mark 31 years of heritage, history, and shared learning experiences from the best the industry has to offer," said Arvin.
Speakers include John Stevens, author of "Dutch Vernacular Architecture;" Patrick Moore, the first North and South American compagnon passant charpentier; William Bryant Logan, author of "Oak, Air, and Dirt;" Jan Lewandowski, an authority on Chinese joinery; Jack Sobon, author of "Build a Classic Timber Frame House Planning & Design/Traditional Materials/Affordable Methods;" Steve Lawrence with tips and tricks for project management; Will Beemer, author and owner of Heartwood School; Duke Kuehn on business strategies and leadership myths; Kevin Ireton, editor at-large of Fine Homebuilding Magazine, with a focus on an extended vision of craft; and Rudy Christian, executive director of the Preservation Trades Network.
The conference website is www.tfguild.org/events/2016-tfg-annual-conference. Informatyion on registering is available by calling 360-746-6571, or emailing megan@tfguild.org.