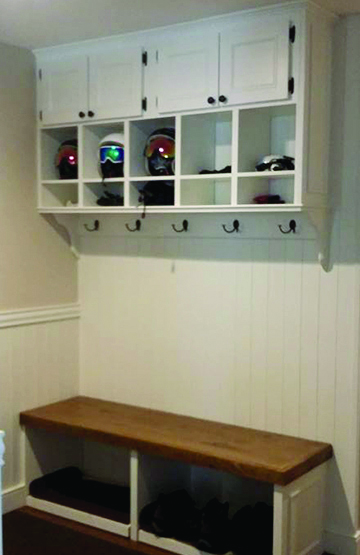 BY Molly Congdon
Homes are full of countless moments. As people age, some want to stay in the same place. But in order to do so, changes sometimes have to be made.
Remodeling homes, rather than moving, is an option many take.
People remodel for accessibility: gravitating toward open designs and eliminating tripping hazards such as stairs. People also give their homes a face lift not just to increase resale value but to make the living space more enjoyable.
The remodeling business is busy, said Dan Wood, owner of Wood Brothers Quality Construction in South Glens Falls.
"We do new construction as well– and we always have at least one new house under construction– but new construction represents only about a quarter of our business. Many people can afford to do the smaller projects and renovations by either saving the money or getting home equity lines and I believe that is the primary reason that it is so popular."
People like where they live, they don't want to move. They just need some upgrades. The most popular rooms to renovate are bathrooms and kitchens.
"We are doing a lot of new kitchens with the diamond cabinetry," said Kevin Knobloch, owner of Refacing & More in Glens Falls. "These are better quality than some of the box stores. People want white Shaker-style cabinets with LED lighting."
Kitchens aren't the only rooms being re-done.
"Right now we are doing a lot of bathroom remodels," Wood said. "Decks, porches and garages are also popular summer projects."
"Custom, built-in cabinets and shelving are something that we specialize in and we stay fairly busy with that type of work as well. This includes things like built in book shelves, mudroom and closet organizers and cubbies, and other things of that nature."
Closet renovations are also rising in popularity. "We do a lot of closet renovations, taking over unused spaces and making it into functional storage space," Wood said.
There are some issues facing the remodeling business. According to Steve Kelly, owner of Kelly Homes and Electric in Queensbury, the cost of materials is rising and "labor is hard to find."
Kelly isn't the only one to notice the dwindling workforce. "I would say that the biggest problem facing the remodeling business is manpower," Wood said. "Most young people go to college and pursue executive type jobs rather than going into the trades; truth be told, the tradesmen/women often make as much or more than someone with a college degree."
The markets in Glens Falls and Saratoga are hot, said Greg Raczkowski, owner of Inspired Designs. "I think because of the recession a lot of people are a little gun shy to buy new. Back before the recession, interest rates were so low, when people wanted to renovate or remodel they would just say, 'Well, why don't we just sell our home and buy a new house.' It was an easy transition and it made sense at the time."
"People are tending towards greener aspects of construction," Raczkowski said. "Whether it be a higher R-value in the insulation that they are using, more efficient heating units and solar is a big trend right now."
For bathrooms, "a sleek contemporary design is very in style. Marble looking tile, Victorian or something else," Raczkowski said. "People are getting away from Jacuzzi tubs and putting in soaking tubs, but they are really putting a lot of money into their showers … Some even turn them into a steam room."
He said kitchens are his top remodeling task. "It's probably the most used room in the house. A lot of times they are the heartbeat of the house, the real soul of it. Families congregate to the kitchen."
"I see a lot of Shaker-style kitchens going in–straight lines, less-is-more concept–but I also see a lot of contemporary in there so it's kind of this eclectic mix between contemporary and shaker."