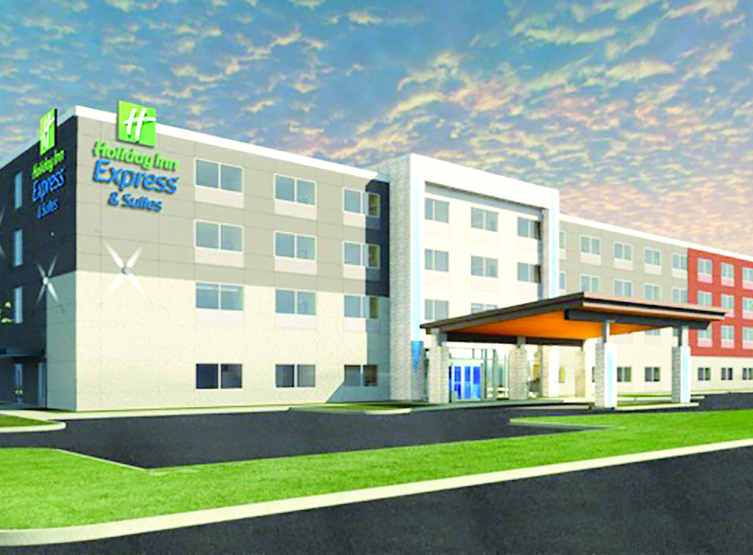 By Jill Nagy
Developer Jerry Nudi hopes to break ground this month for the construction of a new Holiday Inn Express & Suites motel in Queensbury.
At the beginning of August, he was awaiting "one more piece of paper," that one from New York state, before beginning to dig. If all goes according to schedule, the motel will open May 1, 2017, he said.
Plans for the new Holiday Inn were approved by the Queensbury town planning board in March.
The motel will be located near Northway Exit 18, on Corinth Road, "adjacent to McDonald's," according to Nudi. It will be visible from the Northway and have an entry road across from Big Bay Road.
The site has a temporary address of 220 Corinth Road, but Nudi expects that to change.
The plan is for a four-story building with 90 rooms, including some suites, he said. There will be a pool and a fitness center and Wi-Fi in the rooms.
Each room will be equipped with a microwave oven, a refrigerator and a coffee maker. Breakfast will be included in the price of the room, but no other food service or restaurant is planned, Nudi said. Guests won't go hungry; the motel is surrounded by restaurants and fast food outlets.
Nudi said that rates will be set by the management company that will run the motel, Prestige Hospitality LLC, headquartered in Albany, but he expects them to be comparable to other Holiday Inn Express properties.
The engineer for the project is Chris Boyea of Bohler Engineering. Bohler Engineering is also involved with a nearby Hilton Home 2 Suites, similar in size, and also going up at Corinth and Big Bay Roads.
Nudi is president of Warren Electric Co. in Queensbury and a partner with Bart Knotts in Ergo Robotic Solutions.