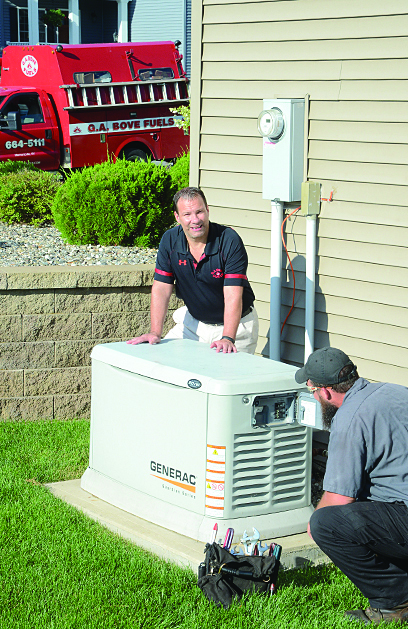 By Susan E. Campbell
Trends in the heating and cooling fields and the sciences behind them project lower costs and greater efficiency, say the experts.
"Technology has advanced steadily. What used to be all wires and relays is now electronic," said Marty DeVit, owner of Thermal Associates of Glens Falls. "You can even control your home unit from the cell phone in your pocket or see how many watts your home is consuming."
He said that compressor technology has improved so drastically that he believes geo-thermal will dominate home heating and cooling in the near future.
"There is a lot of interest in net-zero homes that generate enough energy that you have no utility bill," DeVit said.
John V. Bove Jr., CFO of G. A. Bove and Sons Inc. which has an office in Hudson Falls, said his company is experiencing an uptick in propane systems and delivery, especially in new residential construction.
"Propane is very versatile," said Bove. "The fuel is very similar to natural gas, but gas lines have to stop somewhere."
A new residential neighborhood may not have been piped for natural gas, although the utility may add lines later on. Meanwhile, propane gas has diverse uses, including heating, hot water, cooking, cooling, fireplace inserts, outdoor grills and fire pits, even for heating the pool, Bove said.
"It's one source for winter, summer and everything in between," said Bove.
Solar, wind and geo-thermal are all free sources of energy. "With the systems that harness these," DeVit said, "we are pulling four units of energy out of the ground for every one we buy, so that translates to 500 percent efficiency."
The savings on energy costs are immediate and dramatic. Since natural gas is relatively cheap, the savings to convert to geo-thermal are not as high as for oil consumers. But "anyone who wants to invest for a return" can become a customer, Devit noted.
Among older homes or businesses, it is an easy conversion to propane or natural gas as older oil furnaces reach their life expectancy.
"Schools used to use oil, but it was not good for the environment. You cannot retrofit an old number six boiler, so the schools converted to gas or propane, which was cleaner and cheaper," Bove said.
DeVit got into heating and cooling shortly after the 1970s fuel shortages.
DeVit was a trained machinist who "worked on the first engines for the 747 and the last mechanical calculators for Litton," he said. After the first oil embargo he took courses on refrigeration and HVAC for three years at LaSalle University, and then taught courses for six years.
By the time the bottom of the recession hit in June 1989 and oil prices were predicted to "go through the roof," DeVit was positioned as a distributor of geo-thermal heat pumps with experience in projects like The Pines off Aviation Road.
"Oil and propane was expensive, no natural gas was piped in, and they had electricity, so we sold many air course heat pump units," he said.
Geo-thermal started trending in the mid-1990s but by the year 2000, DeVit was installing and servicing more and more units along with the traditional ones.
DeVit will propose several choices of units factoring in borrowing costs, rebates and tax credits and comparing these net costs with the prospective client's projected average utility costs.
The 30 percent federal tax credit is slated to expire Dec. 31 and the industry is waiting to see if Congress will extend it, even if done retroactively after the election, DeVit said. New York has a refundable tax credit, too.
Both credits have caps and are against one's tax liability, so purchasers need to consult the official web sites to determine how much they can receive in credit and how much of any unused credit may be carried over for them in future years.
Geo-thermal draws water from aquifers deep in the earth and takes the heat energy out. Reverse the process, and the building has "freebie air-conditioning," said DeVit.
Thermal Associates services all types of energy efficient heating and cooling systems, some traditional and some cutting edge. As technology improves, units are getting lighter with greater efficiency.
"There is a 95 percent efficient unit that hangs on the wall," he said.
The initial investment can be in the tens of thousands, DeVit said. "But the borrowing rate may be as low as 4 percent, and savings start the first month."
Fuel pricing is a function of supply and demand; rates go down with use and up when the commodity becomes scarcer, and always in the winter.
Bove credits domestic production, specifically hydraulic fracturing, with keeping supplies healthy and rates reasonable. Fracking is controversial because it uses another precious commodity, water, to release oil or gas from deep within the earth and some believe contamination risk is too great to be an effective option.
"Five years ago the percentage of fuel consumed domestically and produced in the U.S. and Canada bottomed out at 26 percent. Today the figure is 60 percent," Bove said.
He said low fuel prices are 100 percent correlated with fracking. Like it or not, the process is one that helps alleviate foreign dependence on fuel.
Such foreign dependence, along with any instability in the political situation in the Middle East or South America (what if the Suez Canal shuts down, he asks), means that the fuel market becomes less controllable, which in turn translates to more risk, he said.
 When Bove's grandfather started the company in 1930, he initially delivered coal and then home heating oil. Today, G. A. Bove delivers diesel blends, gasoline, winter blends, wood pellets, kerosene and propane, and has a large staff that services and repairs all kinds of heating and cooling systems.
Bove said propane customers are their top priority.
"Service is set up to get to our customers the same day they call, and we will service natural gas systems or those we don't deliver fuel for," said Bove. "My father said, if someone has an emergency, we don't stop working until they have heat."
 Growing up in the business, Bove has first- and second-hand knowledge of embargo, recession, and any number of pressures on fuel pricing. He predicts a small increase in crude oil prices this season. There will always be some daily volatility, he said, because fuel is not being stored in the quantities it used to. Half the terminals at the Port of Albany and Port of Rensselaer are closed.
"If we had a month's supply of fuel in the ground, gasoline prices wouldn't have had to jump ten cents today," he said. "Suppliers only bring up what they think they will need in the next week. You can see it at the pump."
The industry uses a "just in time" inventory method. Barges for Mobil, Exxon and Gulf used to arrive in summer and fill up the tanks for winter.
"Now they bring what they think they'll need in the next week," said Bove.
Propane pipelines were introduced in the U.S. 50 years ago. But they only bring so much fuel to the area, he said.
"It needs to get here sooner and more efficiently," Bove said. "Lower fuel storage has to do with upkeep, cost and declining industry upstate."
Customers cannot control external forces, but they can elect to lock in prices before the perennial mid-winter increase by using one of the payment plan options Bove offers, he said. Customers can do a fixed-rate budget over 10 or 12 months, clients' choice, based upon predicted usage. The other option is to make prepayments.
"You can lock in a price and the price actually goes down in the winter, but 80 percent of the time it's a good economic decision to budget," he said. "Over the years, prices average out and clients get a better deal with a budget arrangement."
Businesses do it so they know what their expenses will be for their budget numbers, he said. Locking in is especially popular among agricultural clients.
It is not that agriculture doesn't want the best rate for fuel. They don't want to budget $20,000 and then fuel costs are $30,000," he said. "Some have already sold their corn so they absolutely need to know their costs."
Like corn, fuel is similar in how it reacts to today's marketplace, Bove said. "It's not like the old days when you go to market and see what you'll get."